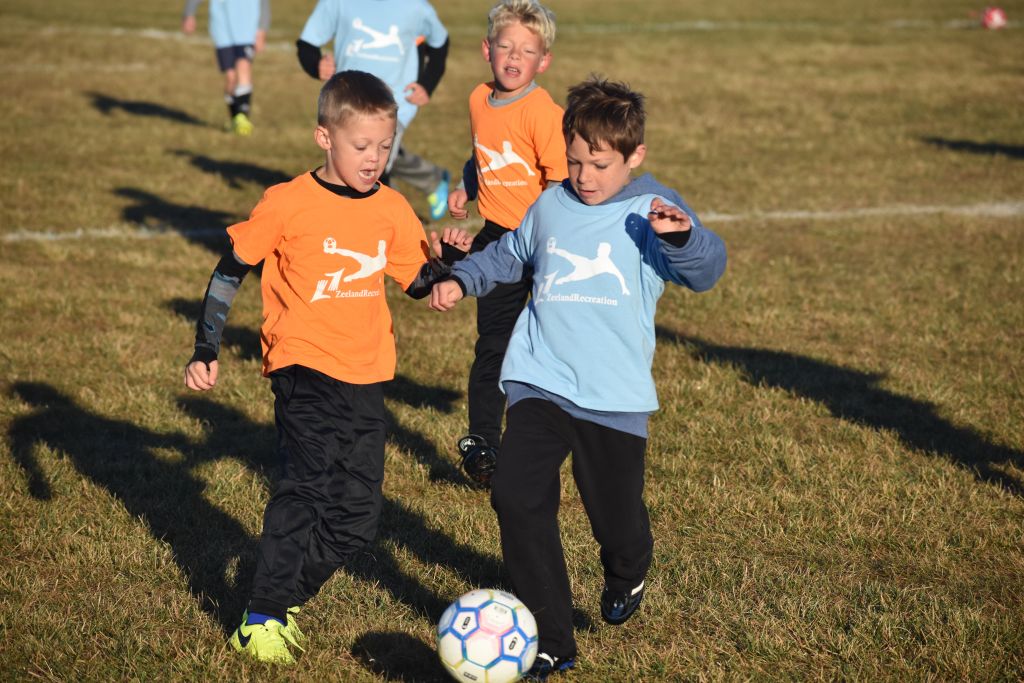 Soccer
Summer Programs
Pre-K Soccer Skills Camp
(ages 3-4)
This is an age appropriate program, professionally run by soccer experts and presented in a way where the emphasis is on fun. Basic soccer skills, such as dribbling, passing and receiving are introduced through a variety of simple and fun games. This program is designed to build confidence by concentering on teamwork and cooperation. Please bring a water bottle. Parents are asked to stay at camp. Min: 10 Max: 40
Register based on age at start date
Coach: Tanja Peter
Cost: $45r/$57nr
Session 1: July 22-25
Session 2: Aug 5-8
Time: 11am - 12pm
Location: Roosevelt Soccer Field
---
Co-Ed Elementary Soccer Skills Camp
(grades K-4)
This skills camp is for girls and boys interested in improving their technical soccer skills in preparation for their fall season. In various game-like situations, a strong emphasis will be placed on technique, in a fun and competitive environment. All skill levels from beginner to advanced are welcome. Required equipment includes shin guards, shoes, and a water bottle. Min: 10 Max: 40
Register based on 2019-20 grade level
Coaches: Ben Hondorp & Andy Hondorp, ZW Varsity Soccer Coaches
Cost: $35r/$47nr
Dates: July 22, 23, 24, 25, (Rain make up July 26)
K: 9am - 10am
1st-2nd: 10:15am -11:15am
3rd-4th: 11:30am - 12:30pm
Location: Main & Fairview Soccer Fields
---
Co-Ed Middle School Soccer Skills Camp
(grades 5-8)
In this camp, athletes will be challenged at each training session by incorporating technical drills and competition under the guidance of experienced staff. Sessions will focus on improving a specific technical skill, and then incorporating that skill into game situations. Participants receive a camp shirt. Required equipment includes shin guards, shoes, and a water bottle. Enroll based on 2019-20 grade level. Min: 10 Max: 40
Register based on 2019-20 grade level
Coach: Ben Hondorp, ZW Varsity Head Coach
Cost: $60r/$72nr
Date: July 15, 16, 17, 18, 19
Time: 9am - 12pm
Location: Main & Fairview Soccer Fields
Fall Programs
Boys & Girls Fall Soccer Leagues
(grades K-6)
Registration is open for our boys and girls fall soccer leagues! After registration closes, each participant is randomly placed on a team and assigned a volunteer coach. Each team practices once per week beginning in mid-late August at the volunteer coach's discretion, and games are on Saturday mornings in September and October at multiple locations around Zeeland.
Registration Deadline: EXTENDED to Sunday, June 23
Register based on 2019-20 grade level
Cost: $40r/$52nr
Practices: One prac p/wk | Begin week of Aug 19
Games: Saturdays | Sept 7-Oct 19
Missed the Registration Deadline? A first come, first serve waitlist will begin after the registration deadline. If a spot become available on a team, you will be contacted and will pay for the program + a $15 waitlist fee. If a waitlist parent volunteers to coach for a needed position, they will get the $15 waitlist fee waived.