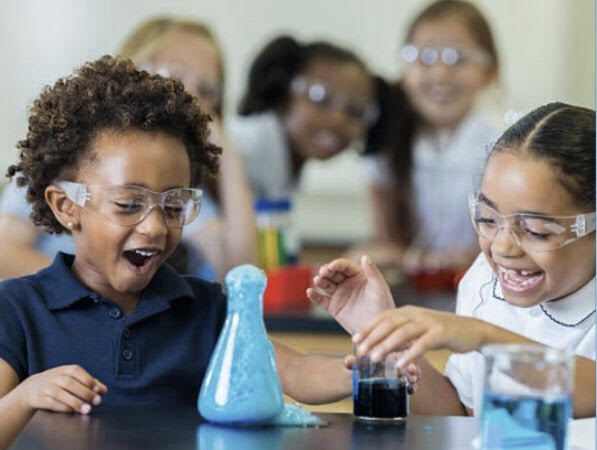 Science, Robotics, Engineering
Summer
Slimetopia Camp
7-11 Yr Olds
Get ready for an ooey, gooey, squishy, slippery, stretchy slime-drenched extravaganza! Join the S.T.E.A.M. team (Science, Technology, Engineering, Art, Math) to learn the science behind the slime while opening your own Slimetopia Theme Park! Participants will make 10+ different kinds of the addictively playful polymer: From butter to bubble, crunchy to munchy, fluffy to foamy, unicorn to color-changing… we've got you covered!
---
STEAM Across the Universe
7-11 Yr Olds
3…2…1… Blastoff! You and a .S.T.E.A.M. team (Science, Technology, Engineering, Art, Math) of astronaut friends will create your own Mission Control Station and soar through the universe! You'll learn the spectacular science of space while taking on a galaxy of cosmically cool challenges - from Rocket Launch Day to Moon Day to Intergalactic Day to Alien Day. Don't miss out on this "out of this world" camp!
---
Summer Science Camp
5 Yr Olds-8th Gr
Join us to be a real-life scientist for a week! Participants will have fun improving their science knowledge by participating in science-related collaborative group challenges! 5 Yr Olds: Register based on age at the start of the program. K-8th Gr: Register based on 2023-24 grade level
---
Steam-Warts
8-12 Yr Olds
Calling all wizard-loving kids to a magical week of spellbinding adventure! You'll design your own wand and wizarding gear and be sorted into your perfect house. Then, you and your housemates will take a full load of STEAMwarts (Science, Technology, Engineering, Art, Math) classes: from Magical Creatures to Charms and Potions to Sheltering from Darkness. This STEAMtastic camp will culminate with an enchanted graduation ceremony!
---
Pets Palooza
6-10 Yr Olds
Wag on over to the most PAWSOME camp in town! You and your S.T.E.A.M. (Science, Technology, Engineering, Art, Math) team will engineer an imaginary world created just for pets: from "Pets Palooza Hotel Day" to "Having a Ball Day" to "Give a Dog a Bone Day" to "Salty Sea Dog Day" to a very special "Rescue Pets Day"! You'll even get to adopt adorable pretend pets of your own and create habitats to match their needs and personalities! This STEAMtastic camp gets two paws up and is a must for every pet-loving kid!
---
slimetopia 2 camp
7-11 Yr Olds
Travel around the world as you learn about various countries through slime with your STEAM (science, technology, engineering, art, math) team! This camp is oozing with excitement as you make at least TEN brand new kinds of slime. Day 1: High Flying Slime Day - mix up some fruity pebbles slime, design and build your STEAM Team's Slimeliner Jet, concoct sky high cloud slime. Day 2: Awesome Asia Day - Fly over to the pacific and the ring of fire. Land and create some explosive ring of fire lava slime then hop on over to Japan and design a volcano jump for Mario. Then shake up some strawberry jelly bubble tea slime! Day 3: Yay Yay Europe Day - Landing in Transylvania can be spooky. Learn about Dracula and make some blood cell slime then head on over to Greece for the mythical Hydra head launch and end the day in Italy with some pizza slime! Day 4: Adventurous Africa Day - Slime can even live in the Sahara! Make some Sahara Sand Slime for your favorite desert dwelling animals to cool off in, trek up Mt. Kilimanjaro's 5 biomes and design a ride to get you back to the base of the mountain. End the day with some Chocolate Slime from Ghana! Day 5: Amazing Americas Day - Check out Columbia and make some Colombian Coffee Flyffycino Slime, visit the USA and build a Monster Truck Wreckin' Arena and end the day in Canada cooking up some Canadian Maple Syrup Slime and Pancake Breakfast Slime!