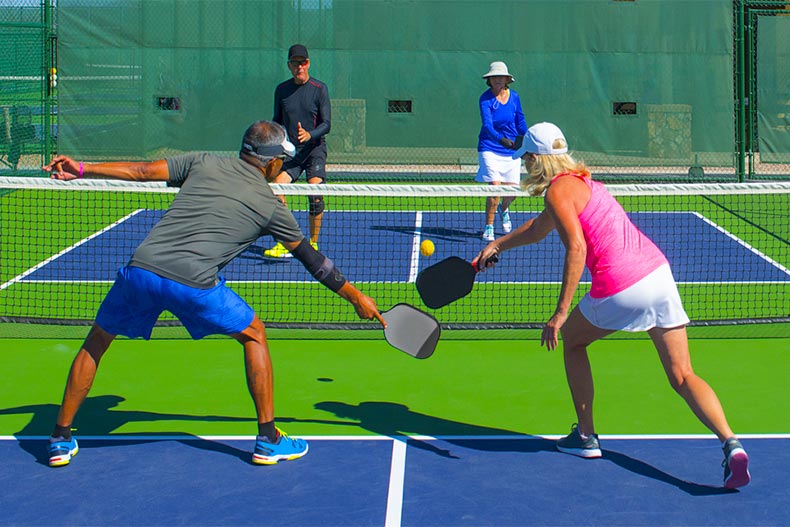 Pickleball
Summer Programs
Adult Pickleball Clinic
This 6-session clinic will introduce adults to the skills and strategies of Pickleball, one of the fastest growing adult activities in the nation! The clinic will focus on ball control, technique of a variety of strokes, the strategy behind strokes, and safety. Paddles and balls will be provided. Come join the fun!
Instructor: Joni Catanese
Cost: $50/$65nr
Session 1: M, W, F | 4:30-6:00pm | Aug 10, 12, 14, 17, 19, 21
Session 2: M, W, F | 6:00-7:30pm | Aug 10, 12, 14, 17, 19, 21
Location: Huizenga Park Pickleball Courts
---
Adult Pickleball Ladder Leagues
Each individual will play three doubles matches in a round robin fashion each week with three other players assigned to your court. There are four courts (A, B, C, D), and the goal is to "climb the ladder" to the top court! At the end of each week, each individual will record how many points they and their doubles partners scored in those three matches. Based on those scores, new 4-player court assignments will be scheduled for the next week. Participants must provide their own paddle. Balls will be provided.
Tuesday Women's Ladder League:
Individual Fee: $25r/$40nr
Registration Deadline: Sat, May 2 (or when full)
Time: 6:00-7:30pm
July Session: Tue | July 7-28
August Session: Tue | August 4-25
Location: Huizenga Park Courts
Thursday Men's Ladder League:
Individual Fee: $25r/$40nr
Time: 6:00-7:30pm
July Session: Thur | July 9-30
August Session: Thur | August 6-27
Location: Huizenga Park Courts