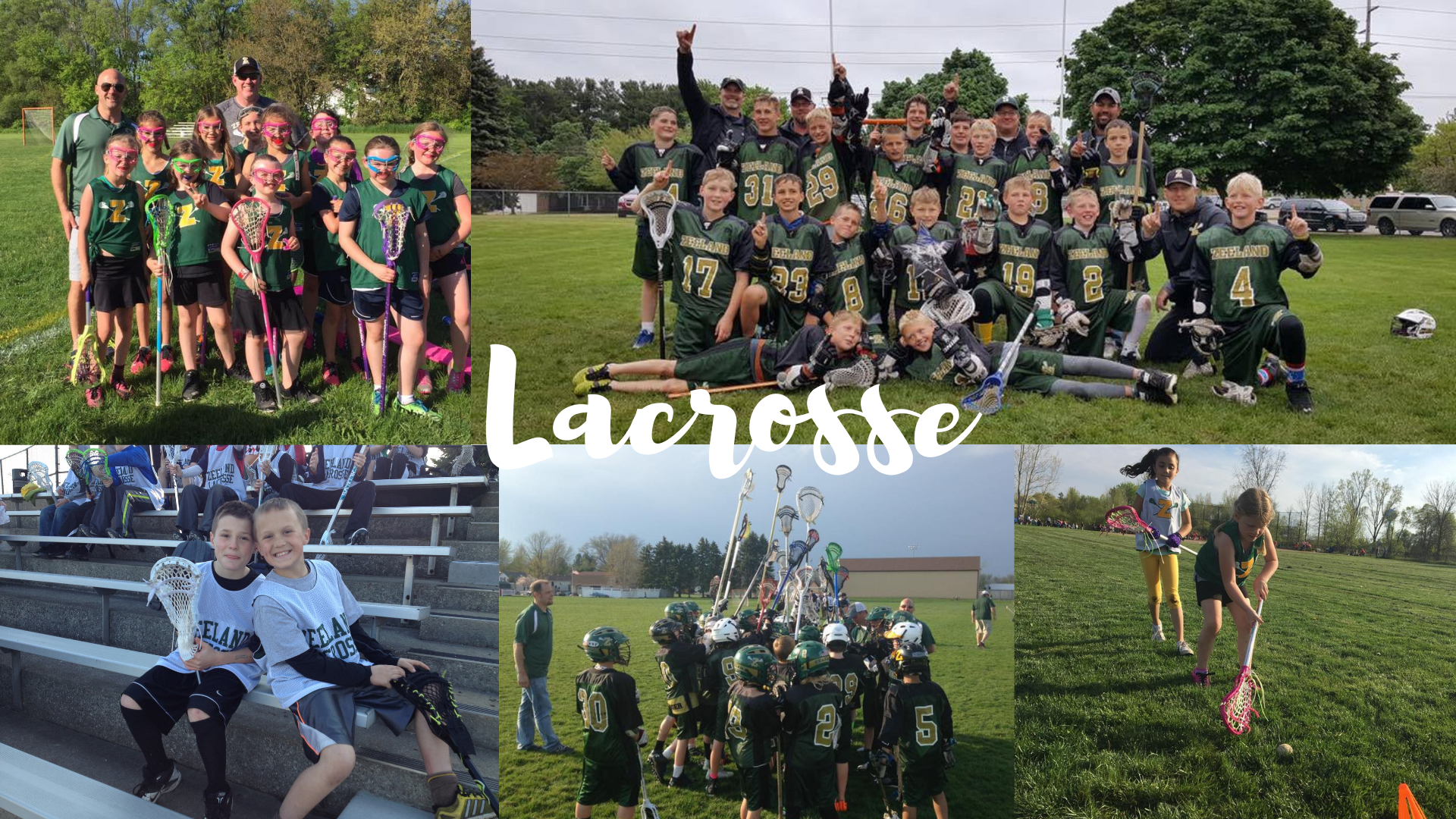 Youth Lacrosse
Winter
Girls Lacrosse Parent-Child Clinic
5 Yr Olds-4th Gr
Join the Zeeland Varsity Girls Lacrosse coaches to learn more about lacrosse and to improve your lacrosse fundamentals! Parent-figure(s) and participants will be together for the first portion of the clinic to learn the basics of the game + equipment needs for younger players. After the parent-child portion, players will then work with Zeeland Varsity coaches on fundamentals of the game while also playing some beginner lacrosse games together!
Cost: $20r/$35nr
Coach: Brooke VanderStelt (Zeeland Varsity Girls Coach)
Date: Sat, Feb 18
Time: 3pm-4:30pm
Location: Creekside MS - Main Gym
Spring & Summer
LACROSSE LEAGUES
3rd-6th Gr
Join our lacrosse leagues to improve your skills, have fun and make lifelong memories! Participants will learn the fundamentals of lacrosse through 2-3 practices per week and eight games. Boys will compete in the Lakeshore Lacrosse Conference. Girls will compete in the Southwest Michigan Recreation League. Jerseys will be provided.
Registration Deadline: Sat, Feb 4
3rd-4th Gr Cost: $99r/$114nr
5th-6th Gr Cost: $123r/$138nr
Parent Meeting: Wed, Feb 15 @ 6:30pm | DeWitt Auditorium
Indoor Practices: 2-3 P/Wk | Begin March 6
Outdoor Practices: 2-3 P/Wk | Begin when weather permits
Games: Late Mar-Late May
Boys Equipment: Helmet, mouth guard, shoulder pads, arm pads, gloves, athletic cup, cleats, offensive lacrosse stick
Girls Equipment: Goggles, mask, mouth guard, cleats, girls stick
---
GIRLS LACROSSE CLINIC
3rd-6th Gr
Join us to improve your stick skills, offensive skills, defensive skills and gameplay! All participants need a girls stick, eye mask and mouth guard. Participants will also receive a t-shirt. Register based on 2023-24 grade level
Cost: $40r/$55nr
Coach: Brooke VanderStelt (Zeeland Varsity Girls Coach)
Dates: July 18 & 20
Time: 4-6pm
Location: Zeeland Stadium