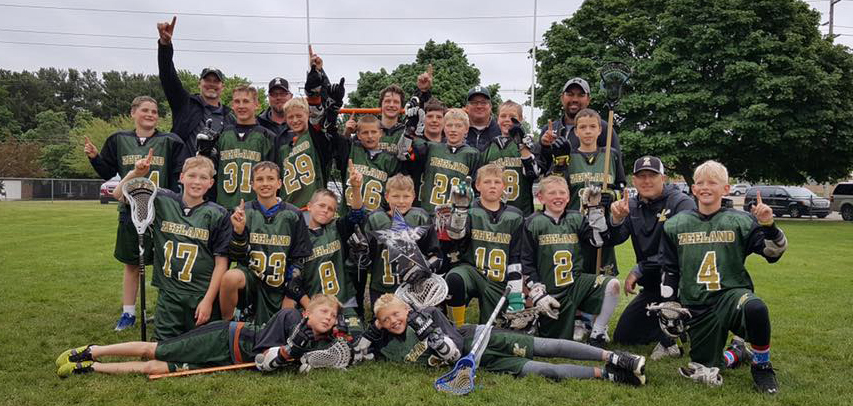 Lacrosse
Spring/Summer Lacrosse Programs
CoEd Lacrosse Clinic
(1st-2nd Graders)
This program introduces boys and girls to basic lacrosse fundamentals using tennis balls, so no helmet or pads are required. All participants will receive a pinnie. Required equipment includes a stick (no long or fiddlesticks). Lacrosse gloves and cleats are suggested.
---
Boys & Girls Lacrosse Leagues
(3rd-6th Graders)
Participants will learn the fundamentals of the game using 2-3 practices per week and eight scheduled games on weeknights and Saturdays. Boys will compete in the Lakeshore Lacrosse Conference and girls will compete in the Southwest Michigan Recreation League. The season will begin to organize in March. Parent meetings will be offered to give more information at completion of registration and coach selections Pinnies/jerseys for games will be provided.
Register online for girls lacrosse or call (616) 748-3230.
Register online for boys lacrosse or call (616) 748-3230.

3rd4th Grade Cost: $100r/$112nr

5th-6th Grade Cost: $125r/$137nr

Practices Begin: Mid-March (indoors if needed)

Games Begin: After Spring Break

Season Ends: End of May

Registration Opens: October 1

Registration Deadline: February 15

Required Equipment: Required equipment includes a helmet, mouth guard, shoulder pads, chest protector, elbow pads, athletic cup, gloves and lacrosse stick. Equipment can be purchased at Superior Sport Store, Dicks Sporting Goods, or Dunhams. If you have questions on equipment, contact Kelli Koss, our youth sports coordinator, at 616.748.3232 or kkoss@zps.org