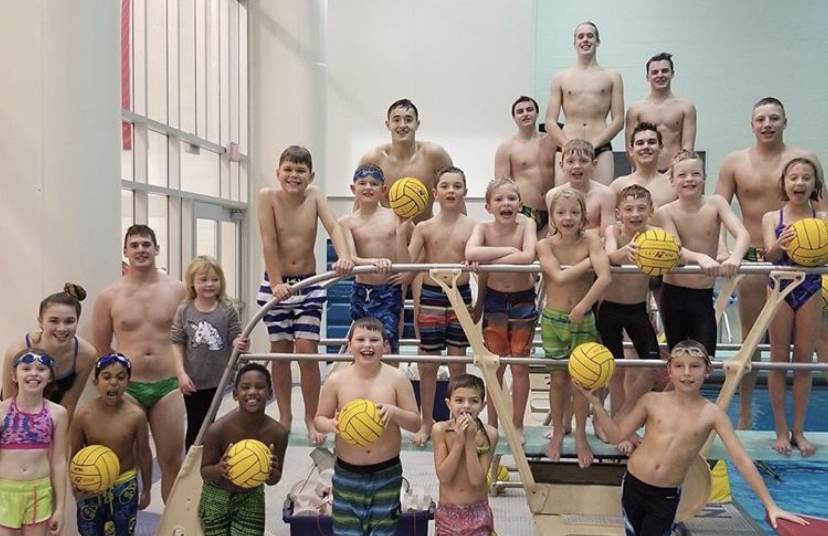 Competitive Aquatics
Summer Programs
Zeeland Varsity Swimming & Diving Academy
(grades K-6)
Swimming: This workshop will help competitive swimmers improve their technique and racing abilities. Each day will include large and small group instruction in all facets of successful swimming (stroke, drills, starts, turns, etc.), competitive games and races, as well as a chance to interact with swimmers from every Zeeland swimming program. Participants must be water-safe in an all-deep pool and at a minimum be comfortable swimming on both their stomach and backs for at least 25 yards. Parents are invited to attend the last 30 minutes each day. Participants are asked to bring a personal water bottle, goggles, towel and their own lunch. Min: 20 Max: 50
Diving: Basic front and back approach will be demonstrated and taught. The dives each participant will learn will depend on the level of skill of each participant, but may include a front dive, front somersault or more, inward dive and back roll off or back dive. Participants must be able to dive in headfirst from the side of the pool. A max of 10 participants will be allowed for the diving portion. Parents are invited to attend the last 30 minutes each day. Participants are asked to bring a personal water bottle, goggles, towel and their own lunch. Min: 20 Max: 50
Register based on 2019-20 grade level
Instructors: Marc VanSoest & Matt Inman, Zeeland Varsity Coaches
Cost: $50r/$62nr
Dates: August 7 & 8
Time: 10am - 2pm
Location: Zeeland West Natatorium
---
Splashball Water Polo
(grades 1-5)
Discover the game of water polo and the learn the skills involved in aquatic sports. Splashball will enhance swimming, balance and coordination skill-sets. Camp is for the beginner and experienced players. Please bring goggles, towel and a water bottle.
Register based on 2019-20 grade level
Coaches: Zac Geschwendt & Dave Vruggink, ZPS Water Polo Coaches
Cost: $28r/$40nr
Date: July 22-25
Time: 4:30pm - 5:30pm
Location: Zeeland Recreation Pools
---
WMS/ZAGS Swim Clinic
(ages 6-18)
Using all three learning styles (visual, auditory and kinesthetic) participants will spend time in the pool and classroom breaking down all four strokes and what it takes to be efficient. Participants will learn drills and techniques that will help them become a well-rounded swimmer. Special guests will help with the water demonstrations. Swimmers must bring a notebook, swimsuit, towel and personal water bottle. Min: 10 Max: 100
Register based on age at start date
Instructor: Drew Scheerhorn, WMS/ZAGS Head Coach
Cost: $30r/$42nr
Time: 2pm-4pm
Session 1: Aug 19, 20, 21
Session 2: Aug 12, 13, 14
Location: Zeeland West Natatorium
---
Zeeland Age Group Swimming (Zags)
(6-18 yr olds)
ZAGS is an introduction to the sport of competitive swimming. Swimmers are placed into appropriate age groups and compete against other swim teams in West Michigan. Practices focus on kicking, technique, starts, turns, drills, aerobic endurance and learning to swim all four competitive strokes. Practices are typically three times a week. The season lasts about nine weeks. Participants have the opportunity to swim approximately 4-6 swim meets.
---
Water Polo Camp
(grades 6-12)
A co-ed teaching camp for intermediate and advanced players designed to improve skills, teach techniques and advance players' understanding of game concepts and skills, including 2M offense and defense, shooting, goalie training and live game situations. Participants must be water-safe in an all-deep pool. Please bring goggles, towel and a water bottle.
Coach: Zac Geschwendt, ZPS Varsity Men's Water Polo Coach
Cost: $120r/$132nr
Days: Tuesdays and Thursdays
Dates: June 11, 13, 18, 20, 25, 27, July 9, 11, 16, 18
Time: 5:30pm - 7:30pm
Location: Zeeland West Natatorium