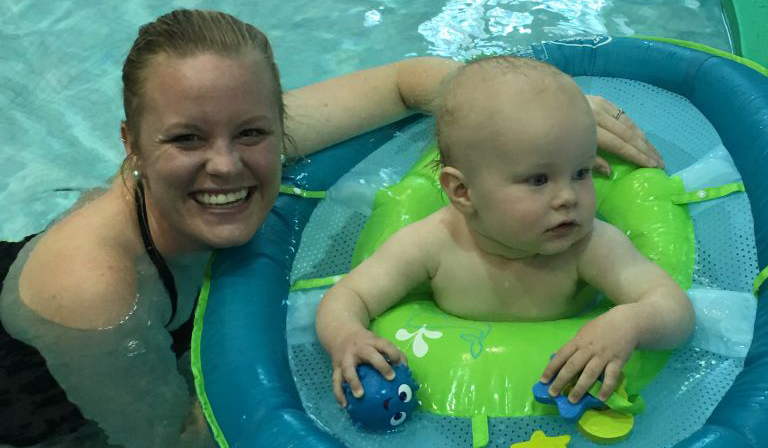 Parent-Child Programs
Winter, Spring, Summer
Parent & Tot: Paddle & Play Open Swim
0-5 Yr Olds + Guardian
A special time in the pool for parents and young children to enjoy playtime with friends. For your convenience, we also provide life jackets, puddle jumpers and infant floats for non-swimmers. A guardian must be in the water and provide direct supervision for their child.
No Registration: Just show up!
Dates: Fridays Until May 19 (Skip Mar 31, Apr 7)
Time: 9:30-10:45am
Cost: $3 p/visitor | Splash Pass | Included with Fitness Memberships
Location: Zeeland Recreation East Pool
---
PARENT & CHILD SWIM LESSONS
6 Months-3 Yr Olds (+ Adult Guardian)
Learning how to swim can save your child's life! Join us to learn the following skills: Enter and exit water together | Getting wet with toys | Front and back holds | Songs and games | Blowing bubbles | Splashing and kicking legs | Splashing and reaching arms | Front and back glides | Water safety rules
Cost: $63r/$78nr
Jan 30-Mar 6: Mon | 6:30-7pm
Feb 1-Mar 8: Wed | 6:30-7pm
Feb 4-Mar 11: Sat | 8:30-9am
Apr 10-May 15: Mon | 6:30-7pm
Apr 12-May 17: Wed | 6:30-7pm
Apr 15-May 20: Sat | 8:30-9am
June 12-28: M & W | 6:30-7pm
July 10-26: M & W | 6:30-7pm
---
ZW PARENT-SON BASEBALL CAMP
7-13 Yr Olds
Join new ZW Varsity Baseball coach, Bryce Muller, for this NEW 4-week parent-child baseball camp to develop your hitting, catching, pitching and fielding skills, while also learning drills that the participant and a parent/guardian can replicate at home to continue their development! Participants can sign up for the entire 4-week camp OR sign up for specific weeks that include skill sets they are most interested in improving at. Each week we will be showing the participants various drills to help develop the specific skills we are teaching. These drills will be practiced during the clinic so they can easily be replicated at home both individually and with a parent/guardian. Participants will have fun, improve their skills to better prepare them for baseball at a higher level in the future. Join us!
Cost: $55r/$70r (for 4-week camp) OR $20r/$35nr for individual sessions
Coach: Bryce Muller (ZW Varsity Baseball Coach)
Date: Sat | Feb 4-25 | 1pm-2:30pm
Sat, Feb 4: Fielding ($20r/$35nr)
Sat, Feb 11: Catching ($20r/$35nr)
Sat, Feb 18: Hitting ($20r/$35nr)
Sat, Feb 25: Pitching ($20r/$35nr)
Location: ZWHS Gyms
---
PARENT-CHILD SING SONG YOGA
2-6 Yr Olds + Guardian
Join us to help your child develop their motor skills and attention span while also making fun memories with a parent or caregiver! Sing Song Yoga® is an international kids musical yoga program in which song lyrics instruct children how to get into the poses. Class includes yoga poses, yoga-based activities and songs to tie it all together. Parents and kids sign up for this yoga class together. It is a fast paced, 30-minute, child-centered class which was created specifically for 2-6-year olds. Enroll based on age at start dates. Taught by the founder.
Cost: $49r/$64nr
Instructor: Deb Weiss-

Gelmi

(founder of Song Yoga®)
AM Session 4: Thur | 9:15-9:45am | Feb 23-Mar 23
AM Session 5: Thur | 9:15-9:45am | Apr 13-May 11
PM Session 3: Thur | 5:45-6:15pm | Apr 13-May 11
Morning Location: Zeeland Recreation - Shoreline Sprinkling Studio
Evening Location:

Cityside

Middle School - Performing Arts Studio
---
DADDY DAUGHTER PROM
5 Yr Olds-5th Gr
Join us to make memories that daughter(s) and daddy's and/or daddy figures will remember forever! The theme this year is "Cinderella" and we're so excited for this special night for a princess and her prince! Cinderella's castle awaits for a night of dancing, photo booths, cookies, punch and more! Please register both father/father figure and daughter(s) separately. Space is limited to 500 people and spots fill up quickly… be sure to register ASAP after registration opens on Dec 6!
Cost: $13 p/person | Register father and daughter(s) separately
Date: Fri, Mar 24
Time: 7-9pm
Location:

Cityside

Middle School - Main Gym
---
PARENT-CHILD COOKIE DECORATING: SPRING COOKIES
4-10 Yr Olds + Guardian
Join us for some cookie decorating fun and the PERFECT parent-child activity! We'll practice decorating techniques with royal icing, then create 12 fully-decorated cookies based on our Spring theme! Allergens warning: participants will be exposed to almond emulsion, gluten, dairy
Cost: $40r/$55nr
Instructor: Jen Meyering (Owner of One Smart Cookie)
Date: Sat, Apr 22
Time: 1pm-2:30pm
Location: New Groningen Elementary - Cafeteria
---
FREE YOGA IN THE PARK (PARENT-CHILD + ADULTS ONLY)
All Ages
Join us for yoga classes on the park lawn. We're offering a "Family" option for parent/child as well as an "Adults Only" option. Join us to get a great workout or to make great memories! No yoga experience is necessary. Please bring your own mat or towel. Classes may be canceled due to inclement weather… follow us on social media for weather decisions.
Cost: FREE... just show up!
Instructors: Deb Weiss-Gelmi + Mellissa Zoerhof
Date: Tue | Jun 13-Aug 22 (skip July 4)
Family Yoga (All Ages): 11am-11:45am
Adults Only Yoga (12 Yr Olds-Adults): 12pm-1pm
Location: Lawrence Street Park (100 W Lawrence Ave, Zeeland)
---
ZE FATHER-SON QUARTERBACK CLINIC
3rd-8th Gr
This is a great opportunity for father-figures and sons to learn about the quarterback position together so they can use the skills they learn to continue practicing at home! Participants will learn proper throwing and footwork fundamentals that are essential to success on the field. Please enroll child only. Register based on 2023-24 grade level.
Coaches: Sam Nichols (former HS & College coach) + Joe Woodruff (ZE Varsity Coach)
Cost: $50r/$65nr
Dates: June 26-28
Time: 6pm-7:30 pm
Location: Zeeland Stadium
---
BIRDING FOR BEGINNERS
8 Yr Olds-Adults
Are you interested in birds and birdwatching but are unsure where and how to begin? Join us at Upper Macatawa County Park to go over the basics of bird watching, binocular techniques, bird identification and an introduction to the common birds in the area.
Cost: $10r/$25nr
Instructor: Ria VanderKlok
Session 1: Sat, May 27 | 10-11am
Session 2: Sat, June 10 | 10-11am
Location: Upper Macatawa County Park (84th Street Entrance)
---
NATURE JOURNALING FOR BEGINNERS
12 Yr Olds-Adults
If you love the outdoors and find nature infinitely interesting, this class is for you! You'll learn how to capture your experience with nature on paper through drawing, writing, color, and data collection. No experience with drawing or writing is necessary. Each class will have classroom work and field work in the Zeeland Wetlands.
Cost: $20r/$35nr
Instructor: Ria VanderKlok
Session 1: Sat, May 27 | 1pm-2:30pm
Session 2: Sat, July 15 | 10am-11:30am
Location: Creekside MS Quack Shack + Zeeland Wetlands
---
FAMILY Open Swim
Infants-Adults
Family Open Swim is a great time for all ages to enjoy the pool - from infants to teenagers to seniors and everyone in between! We have diving boards, a youth water slide, basketball hoops and various pool toys and floats, along with life jackets, puddle jumpers and infant floats for non-swimmers. Come join the fun!
Cost: $3 p/visitor OR Splash Pass (details below) | Included in ALL Fitness Memberships | Free Open Swim While Enrolled in Swim Lessons
Half Day Open Swims: 1:30-3:30pm | Feb 10, 13, 14, Mar 3, 24, Apr 3, 5, 8, 28, May 12, June 7, 8, 9