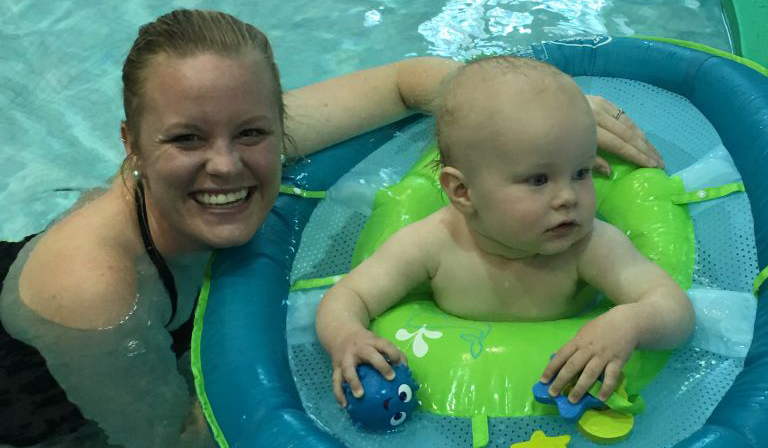 Parent & Child Programs
Spring/Summer Programs
ADAPTIVE OPEN SWIM
This program provides access to physical activity, new stimuli, and alternative social activities for individuals with special needs and abilities. Everyone is welcome! Come and join us for some fun in the pool! No registration needed… just show up!
Cost: $3 p/visit OR Splash Pass (no charge for personal caregivers)
Dates: May 1, June 5
Time: 1:30pm – 2:30pm
Location: Zeeland Recreation Pools
---
MOM AND ME (AND DAD'S TOO!) COOKIE DECORATING CLASS
(ages 4-11 + Adult)
Get ready for some cookie decorating fun as a family! This class is a great intro to cookie decorating, and each child registered will leave with a dozen fully decorated cookies! Min: 8 Max: 16
Register based on age at start date
Instructor: Lisa Hann, Pink Slip Cakery Owner
Cost: $30r/$42nr
Mother's Day Cookies: Sat, May 4 | 10am - 11:30am
Father's Day Cookies: Sat, June 8 | 10am - 11:30am
Location: Cityside Middle School, Room 135
---
Open Swim
Full Details on Open Swim Options
Fun for the whole family, open swim is a great time for all ages to enjoy the pool! Diving boards, youth water slide, basketball hoop various pool toys and floats are available. We also provide life jackets, puddle jumpers and infant floats for non-swimmers. Pool Rules
$3 p/visit or Splash Pass (details below)
Tue-Fri: 7pm-8:30pm
Sat: 1:30pm-3:30pm
Open Swim on Half School Days: 1-3pm | Apr 19, May 1
Snow Day Open Swim: 1:30-3:30pm
Free Open Swim Access While Enrolled In Our Swim Lessons
---
Parent-Child Sing Song Yoga
(2-6 yr olds + Parent)
Sing Song Yoga® is an international kids' musical yoga program in which song lyrics instruct children how to get into the poses. Class includes yoga poses, yoga-based activities and songs to tie it all together. Parents and kids sign up for this yoga class together. It's a fast paced, 30-minute, child-centered class best suited for the youngest yogis. Taught by the founder. Program size is limited.
Day: Thursdays (morning and evening session options)

Session 5: Apr 11 – May 9 | 9:15am – 9:45am

Location: Zeeland Recreation, Studio A
---
PARENT AND CHILD WETLAND ADVENTURES
(grades K-2 + Adult)
Participants will explore the wetland area by looking for living organisms. Fish, frogs and all different kinds of aquatic insects and terrestrial insects will be examined. A simple experiment will be conducted to learn about the animals that use the wetlands. A parent or caregiver must accompany their child. Please bring your own footwear appropriate for getting in the water and appropriate clothing for the weather. Min: 4 Max: 10
Register based on 2019-20 grade level
Instructor: Jennifer Soukhome, ZPS Science Teacher
Cost: $20r/$32nr
Dates: June 17-21
Time: 9am - 10am
Location: Zeeland Wetlands Pavilion (if inclement weather, meet at ZWHS in room D122)
Directions to the Zeeland Wetlands Pavilion: Park in the ZPS Varsity baseball and softball fields parking lot off of 96th Ave just south of Riley St. The Zeeland Wetlands Pavilion is at the southwest corner of the soccer field to the west of the parking lot.
---
TAEKWONDO EXPERIENCE
(8 yr olds – Adults)
A fun and exciting class for individuals who are interested in exploring the world of traditional martial arts. Coordination and body awareness is developed through beginner level Taekwondo techniques and games. Min: 6 Max: 25
Instructor: Rick Jipping, 7th Degree Master Instructor
Location: New Heights Fitness (338 W Washington, Zeeland)
Day: Wednesdays
Time: 6:30pm – 7:30pm
Session V: Apr 10 – May 15
---
Group Fitness Classes
(14 yr olds - Adults)
---
Lap Swimming / Water Fitness
(8 yr olds +)
Lap swimming and water fitness (deep and shallow water walking) are available at designated times in the pool. For specific days and times, please view our monthly aquatics calendar available in the lobby and on our website. Free with a Fitness Membership. No registration needed… just show up!
Cost: $5 p/visit OR $3.50 w/punch card OR Free with a Fitness Center Membership

Split lane swimming is appropriate when there are two swimmers in a lane

Swim counter-clockwise (or "circle swim") when there are three or more swimmers in a lane

All lanes are shared lanes and the lifeguard staff will regulate lane usage during busy times