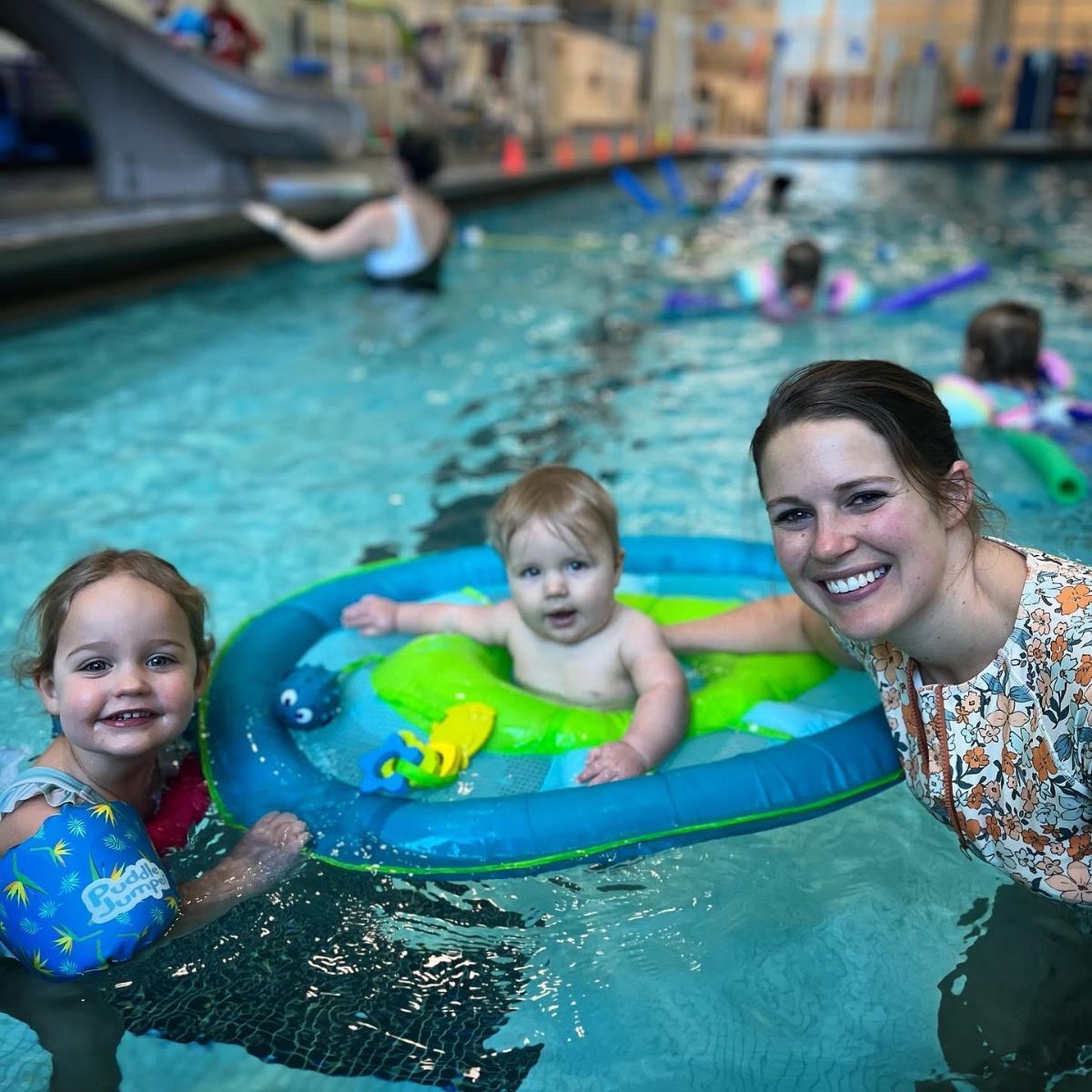 Parent-Child Programs
Winter
PADDLE & PLAY OPEN SWIM
0-5 Yr Olds + Guardian
A special time in the pool for parents and young children to enjoy playtime with friends. For your convenience, we provide life jackets, puddle jumpers and infant floats for non-swimmers. A guardian must be in the water and provide direct supervision for their child.
---
FAMILY Open Swim
Infants-Adults
Family Open Swim is a great time for all ages to enjoy the pool - from infants to teenagers to seniors and everyone in between! We have diving boards, a youth water slide, basketball hoops and various pool toys and floats, along with life jackets, puddle jumpers and infant floats for non-swimmers. Come join the fun!
---
PARENT-CHILD SING SONG YOGA
2-6 Yr Olds + Guardian
Help your child develop their motor skills and attention span while also making fun memories with a parent or caregiver! Sing Song Yoga® is an international kids musical yoga program in which song lyrics instruct children how to get into the poses. Class includes yoga poses, yoga-based activities and songs to tie it all together. Parents and kids sign up for this yoga class together. It is a fast paced, 30-minute, child-centered class which was created specifically for 2-6-year olds. Enroll based on age at start dates. Taught by the founder of Sing Song Yoga®.
---
PARENT & CHILD SWIM LESSONS
6 Months-3 Yr Olds (+ Adult Guardian)
Learning how to swim can save your child's life! Join us to learn the following skills: Enter and exit water together | Getting wet with toys | Front and back holds | Songs and games | Blowing bubbles | Splashing and kicking legs | Splashing and reaching arms | Front and back glides | Water safety rules. Parent-child lessons have a 6-1 student-instructor ratio.
---
DADDY DAUGHTER PROM
5 Yr Olds-5th Gr
Join us to make memories that daughter(s) and daddy's (or daddy figures) will remember forever! This year we will light up the night at our GLOW themed Daddy-Daughter Prom! There will be dancing, photo booths, glow sticks, snacks and more! We can't wait to see you make memories that will last a lifetime! Spots fill up fast so be sure to register ASAP!
---
MY GROWN UP & ME: DANCE & MOVEMENT
2-3 Yr Olds + Guardian
Join us to bond with your little one while they learn basic dance steps and terminology through songs, stories and play! On top of that, your little ones will also blossom while building self-confidence! Parents/guardians will participate actively in the class, so this is the perfect program for children who may still need a little more time before separating from a parent or caregiver. Ballet shoes and leotards are recommended for children, but not required. Enroll based on age at start date.
---
ZW PARENT-SON BASEBALL CAMP
2nd-6th Gr
Join the ZW Varsity Baseball coaches for this 4-week parent-child camp to develop your hitting, catching, pitching and fielding skills, while also learning drills that the participant and a parent/guardian can replicate at home to continue their development! Participants can sign up for the entire 4-week camp OR sign up for specific weeks that include skill sets they are most interested in improving. Each week we will be showing the participants various drills to help develop the specific skills we are teaching. Participants will have fun and improve their skills to better prepare them for baseball at a higher level in the future.