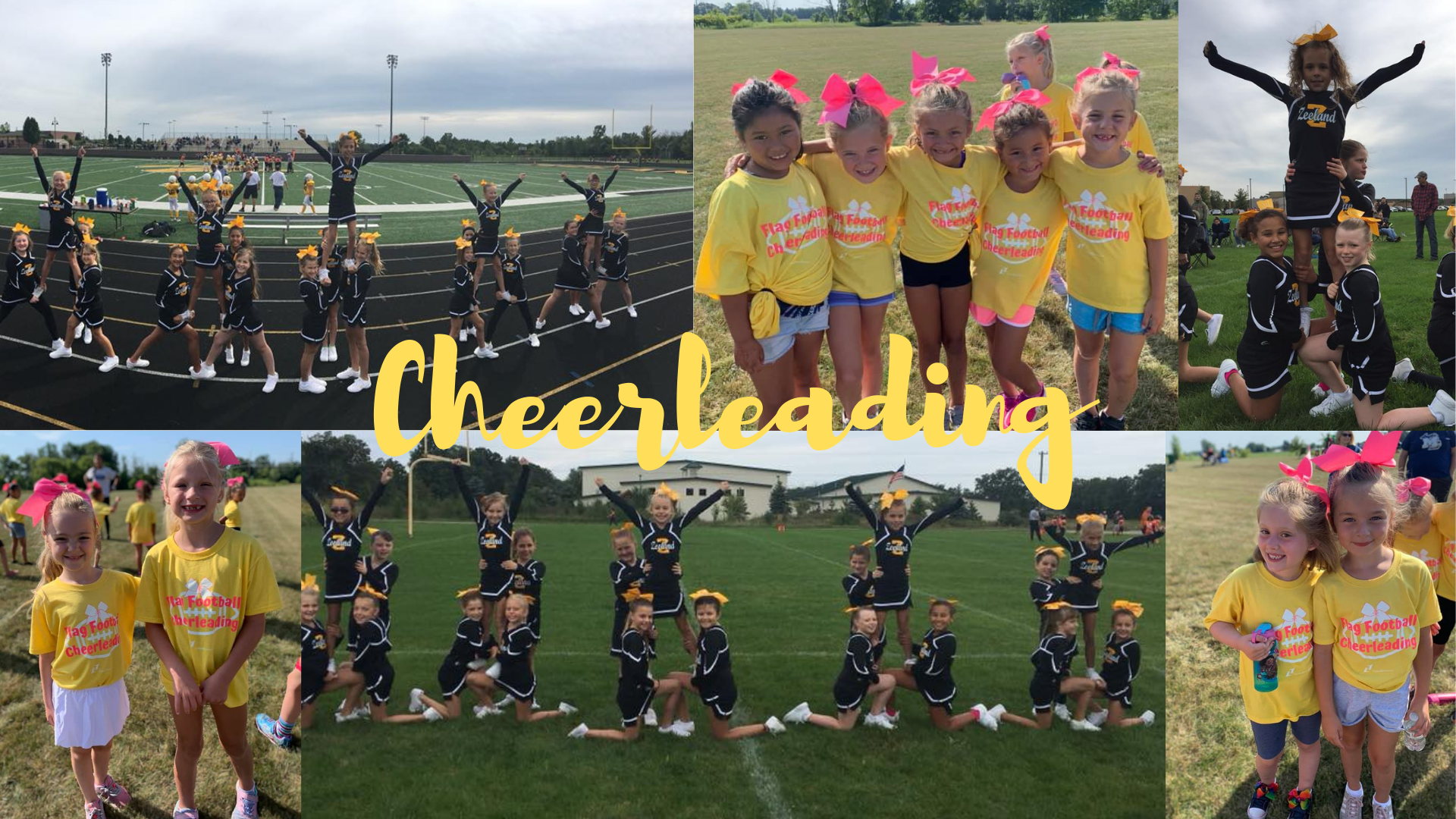 Cheerleading
Fall & Winter Programs
ZEELAND WEST CHEER CLINIC
PreK - 8th Graders
Want to see what it's like to cheer on a varsity cheer team? This is your chance! In this camp, girls and boys will learn chants and jumps alongside the Zeeland West Cheerleaders!
Coach: Lexi Greszak, ZW Cheer Head Coach
Cost: $

35r

/$

50nr

Dates: Sept 22-24 (Tue-Thur)
PreK-2nd Graders: 5:00-6:00pm

3rd-8th Graders: 6:00-7:00pm

Location: Green Space Outside of ZWHS Natotorium Doors
---
Fall Rocket Sideline Cheer Teams
3rd-6th Graders
Come and learn the basic cheers alongside our Rocket Football games! There will be practices once a week, along with cheering on Saturdays on the sideline of Zeeland Rec Rocket Football games. Team uniforms will be provided on loan. White shoes must be provided by parents. Register based on 2020-21 grade level.
Practice and Game Schedule

3rd

-

4th

Practices: Thur | 6-7

pm | Aug 27-Oct 22 | Cityside MS Aux Gym

5th

-

6th

Practices: Thur | 7-8

pm | Aug 27-Oct 22 | Cityside MS Aux Gym

Football Game Schedule: Saturday AM | Sept 19-Oct 17
---
COMPETITIVE CHEER TEAM
6th Graders
Come out for our 6th Grade Competitive Cheer Team! No experience required! You will be taught two routines that include jumps, tumbling, stunts, and motions. Then, you will have the chance to perform at an official cheerleading competition held at Zeeland West. This camp is designed to teach 6th grade athletes what competitive cheer has to offer and to prepare 6th grade athletes for competitive cheerleading at the middle school level.
Registration: Opens Nov 1
Coaches: Ali Coffey and

Lexi

Greszak

, ZE & ZW Cheer Head Coach
Cost: $65r/$80nr
Practices: Tue, Wed, Thur
Dates: Dec 14-Jan 27
Performance: Jan 27
Time: TBD
Location: TBD
---
WINTER COMPETITIVE CHEER CLINIC
4th-5th Graders
Do you want to experience what competitive cheer is like? Come out for our competitive cheer clinic! In this camp you will learn a routine that includes jumps stunting, tumbling, and motions. After the clinic, participants will have the opportunity to perform the routine at the Zeeland West Home competition on Jan 27! Participants will receive a t-shirt and bow.
Coach:

Lexi

Greszak

, ZW Cheer Head Coach
Cost: $35r/$50nr
Dates: Tuesday | Jan 12, 19, 26
Time: 6:00-7:30pm
Performance: Jan 27
Location: ZWHS - Room A103
---