Meet the Staff
Leslie Rindfliesch, Director
Leslie Rindfliesch, Director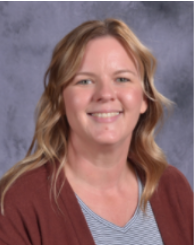 I'm Leslie Rindfliesch! I was born and raised in Port Huron, MI. My family made the move from one lake to the other 14 years ago (and I must say that we absolutely LOVE the west-side of Michigan!). I attended Central Michigan University and graduated with a Bachelor of Science in Elementary Education. In 2010, I graduated from Saginaw Valley State University with a Masters in Educational Leadership.
This is my 21st year in the educational field, my 14th year with Zeeland Public Schools! I have taught every grade level, kindergarten through 8th grade in my career, and I am so proud to be the Principal of the most amazing, non-traditional public school in the area! We are so lucky to have educational options here in Zeeland like ZQuest! My husband, Mark, and I enjoy doing all types of outdoor activities with our girls, Alexis, who is a Senior this year (YIKES!), and Tessa, 10th grade (both of whom attended ZQuest!!), going to ZPS high school sporting events, traveling to Penn State football and volleyball games, and watching the girls participate in their activities)! I very much enjoy listening to music, learning more about and improving education, relaxing in the sun (when I get a chance), baking and of course shopping!
This year will prove to be another very rewarding year, and I am more than excited to get started! My goal this year is to continue the great work we've started together as a team of teachers, parents and kids, to take Zeeland Quest students and teachers to the next level of outside-of-the-box learning, strive to continue our uniqueness within the great district of ZPS (with COVID-19 in the picture, our team will be as creative as ever to facilitate learning!). We have a wonderful school in front of us, great teachers facilitating the education of your learners and leading the way to changing education by offering different opportunities to our community! The kids of ZQuest are taking the lead in these new ways of learning and will prove to be leaders of their learning and our ever growing and changing community! There are no limits on how, where and when we learn at Zeeland Quest and that excites me more than anything!
Marcy Hartzler, 7th-8th Grade Teacher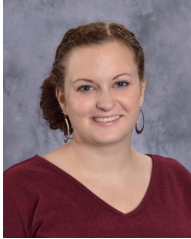 I'm Marcy Hartzler and I can hardly believe that I get to say that I will be celebrating my tenth year at ZQuest! I am a graduate of Hope College and was blessed to be hired as one of the original ZQuest staff shortly after that. Since then, I have also gone on to earn my Master's Degree in STEM Leadership.
It's interesting to look back and find that I'm beginning this year in much the same way as year one--with a new classroom, lots of excitement, and big plans for the future. Ten years down the road, ZQuest continues to be a place that puts students ahead of standards and that allows me the flexibility to make learning engaging and relevant, to develop a sense of family within the classroom, and to nurture students who are critical thinkers and leaders in their communities.
A new school year also brings with it the energizing promise of new PBLs! I never cease to be amazed with the innovative ways that students attack problems, test solutions, and refine their understanding of how learning impacts the real world. The momentum and excitement that PBL generates simply cannot be beat! I love hearing from former students, and their parents, about how PBL has helped them in high school when it comes to working collaboratively with others, staying organized, demonstrating confidence in the face of challenges, and approaching new learning with the intent to truly understand, not just memorize.
Amongst the students at ZQuest, I'm known as the teacher who loves cats, Diet Coke, purple, and The Wizard of Oz. When I'm not teaching, you will probably find me reading on the beach in the summer, or snuggled up with my cats, Pippa and Izzy, and a book in the winter. My husband, Joel, and I also love to make our annual journey to New York City to check out the latest Broadway shows and to enjoy some halal food from the Halal Guys cart.
My mom and younger sister, who reside in the suburbs of Chicago, love to visit and take advantage of the beach and all the tasty produce in West Michigan. My brother and his family live in Wisconsin, so we have all sides of Lake Michigan covered!
Zach Adams, 7th-8th Grade Teacher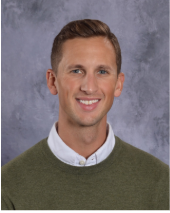 Hi, my name is Zachary Adams and I am excited to begin another year of teaching 7th and 8th grade with Ms. Marcy! I was born and raised in the Columbus, Ohio area. I am the youngest of four children in my family, which includes two older sisters and one older brother. My parents raised me to be a responsible, respectful, and intelligent person who is driven to be the best man that I possibly can be. I find joy in reading, which I developed from my father, and I also enjoy staying active whether that is playing soccer, riding bikes, or going on runs with my wife Katie. My wife and I love to travel during the ZQuest break weeks and I often connect these vacations to a topic that I am teaching. This summer I will be competing in my first triathlon. After the triathlon I will begin my training for a marathon, which will take place in October.
I look forward to utilizing my Masters in Educational Technology from Michigan State University by finding fun and inventive ways to use technology in the classroom. Go Green! I am passionate about providing my students with the best education possible and that means providing them with many opportunities to engage in creating with technology. I am continuously encouraged and challenged by the things I have learned in my Masters program as well as by Ms. Marcy to develop outstanding PBLs where students can foster their love of learning and express their personal interest.
My goals as a teacher include teaching the students to be independent learners as well as problem solvers. At ZQuest we focus around Project Based Learning where students are encouraged to communicate and collaborate with each other to answer questions and fully understand the content. I have a passion for reaching the students on an individual level and making sure their learning style is being accounted for. In my class we will be using technology not to substitute for learning, but to enhance the learning that is already taking place. I will strive to help my students to love the learning process. In my class we are a team and treat one another like family so that every individual feels like they are loved and respected in the classroom. I know that I am in the classroom to teach the students, but I am also there to learn from the students how I can be a more influential teacher.
Amy Bultena, 5th-6th Grade Teacher
Hello! My name is Amy Bultena, and I am one of the 5th/6th grade teachers. I am thrilled to be at ZQuest for my seventh year!
I was born and raised in Farmington Hills in the Metro Detroit area, and lived there my whole life before attending Grand Valley State University. I'm a two-time graduate of GVSU- I received my Bachelor's Degree in Social Studies in 2011, and my Master's Degree in Literacy Studies in 2018. I truly enjoyed having so many opportunities to learn new things to bring back to my classroom!
I've lived in West Michigan ever since marrying my husband, Andrew, in July of 2013. Our son, Carson, joined us on March 17, 2020- a St. Patrick's Day baby! I miss the hustle and bustle of the Detroit area, but have grown to love the beauty of West Michigan and its close-knit community feel. There's nothing quite like having Lake Michigan just a few miles away (although I could do without the lake effect snow!). I try my best to take advantage of the beautiful weather by going to the beach, riding bikes, or reading outside in the sun! I also love to travel whenever I get the opportunity, and try to spend time with family and friends as much as possible, especially my parents in the Metro Detroit area, and my brother and sister-in-law in Florida.
ZQuest is an amazing place to grow and learn, and I'm thankful to be able to teach here! I am looking forward to a wonderful year for our 5th/6th grade students.
Dan Kornelis, 5th-6th Grade Teacher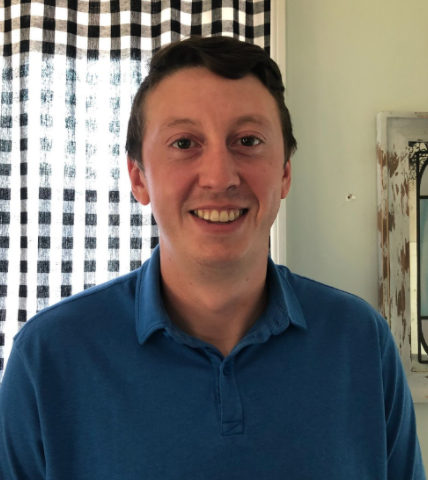 Hi! My name is Dan Kornelis and I am thrilled to be a part of the ZQuest family and teach 5th/6th Grade! This past year I taught 2nd grade in Saugatuck Public Schools. Prior to that I taught for 3 years in Houston, Texas. My experience in Texas was in 4th and 2nd grade. Working in a team and creating a respectfully collaborative environment within the classroom are things I value personally and professionally. I cannot say enough how excited I am to be working with you and your students this year!
I was born and raised in northern Michigan, near Traverse City, in a small town called Empire. My parents still live there. After high school I attended Alma College and graduated in 2015. In my free time I enjoy getting outside and taking hikes or taking our dog, Winston, for walks. My wife and I recently purchased a home in Hudsonville and that has kept us quite busy with updates and repairs - which I enjoy doing as well! We are excited to be on the west side of the state and to be a part of such wonderful communities.
My favorite thing about teaching is getting to know the students. I strive to pass along a love of life long learning and critical thinking skills to better prepare the next generation of leaders for their roles outside of the classroom. I consider it an honor and a privilege to be a part of the ZQuest family!
Dustin Neyer, 3rd-4th Grade Teacher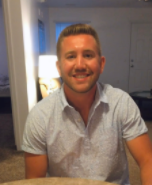 Hello! My name is Dustin Neyer and this will be my first year teaching 3rd/4th grade at ZQuest. I am very excited to become a part of the Zeeland community! For the last three years, I was a 3rd/4th grade teacher at Renaissance Public School Academy in Mt. Pleasant. Project based learning, multi-age classrooms, and collaboration are something I have valued tremendously throughout my teaching career, so I am looking forward to continuing to promote those values at ZQuest.
In 2018, I graduated from Alma College with degrees in Elementary Education and Social Studies. I also played college football while I was at Alma and have coached basketball at the middle school level for the past three years. One of my most memorable memories from high school was being #1 on Sportscenter Top Ten Plays for a buzzer beater shot I made in a basketball game. In my free time, I enjoy spending time with my family at our cottage on Lake Isabella, going to concerts and sporting events, and helping out on my dad's dairy farm. I will appreciate having a much larger lake in my backyard now!
Building positive relationships with students, parents, staff, and the community is by far my favorite aspect about teaching. I look forward to continuing my education career in Zeeland and getting to know the ZQuest family!
Kimberly Villanueva, 3rd-4th Grade Teacher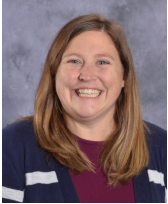 Hi! My name is Kimberly Villanueva and this will be my 13th year of teaching! I graduated from Cornerstone University in Grand Rapids, MI with a Bachelor of Arts in Elementary Education. I also completed my Masters of Science in Curriculum and Instruction over the summer. I have a certification in teaching Academically and Intellectually Gifted students from North Carolina Central University as well as an Early Childhood Endorsement from Baker College in Muskegon, MI. I moved to Raleigh, North Carolina in 2008 where I taught 2nd grade and 3rd grade. I miss the weather and the Carolina blue skies! My husband Jeffery and I have been married for 13 years. Our daughter Ellery is going into 4th grade this year in Allendale and keeps us plenty busy with soccer, volleyball, softball, and many other sports! We love the chaos of it all (most of the time.)
I have enjoyed being a part of ZQuest for the past 8 years and I look forward to another great year! It has been such a joy to be a part of a school that values kids and their learning, as well as a part of this team and change the way we educate our kids. I love sharing my passion for Social Studies with kids and getting them excited about learning about the world.
Amy Funk, 1st-2nd Grade Teacher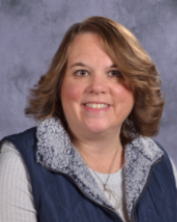 Hello! My name is Amy Funk and I am one of the 1st-2nd grade teachers. This will be my 10th year teaching with Zeeland Quest. I love watching my students develop a love for learning and how they push me because they want to go above and beyond what is required of them. During break weeks and over the summer my students continue to contact me on what they are learning and what they have achieved. A goal for me and my students this year will be to help them develop their critical thinking, problem solving and 21st Century skills to become self directed learners to reach their highest level of achievement. I have a Marketing Degree from Eastern Michigan University and a Teaching Degree from Grand Valley State University. I currently live in Grand Haven with my Husband. We have 2 Biological Children. Kyle is living in Washington D.C. and works as a Research Associate for the National League of Cities. Derek is taking classes at Grand Valley State University, working towards his Bachelor Degree. In April 2018, we adopted a young man who needed a family and a home. His name is Carlos and he is currently living with us. In my spare time I love to read, play games, spend time with my family, travel and spend time at the beach.
Shannon Foerch, 1st-2nd Grade Teacher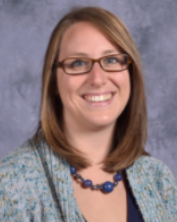 Hello! I'm Shannon Foerch and I am one of the 1st-2nd grade teachers. I grew up in Mid-Michigan and have fallen in love with West Michigan. I am a Hope College graduate and earned my master's degree in Early Childhood Education from Western Michigan University in 2014. This will be my 15th year of teaching, all in K-2 classrooms. I had a great opportunity to live and teach in Georgia, but am happy to be home in Michigan :) I love ZQuest for the multi-age aspect and the ability to meet learners where they are at - it's a great challenge and so neat to see my students' knowledge and abilities grow exponentially​! Every year, my hope is that I can create a loving and safe learning environment for my students so that they will love learning.
My husband Luke and I have been married for 13 years and we have two children, Nora (5 years old) and Josiah (3 years old) who keep us busy! We enjoy spending time with our friends & families, being outside - hiking, swimming and biking - as well as completing DIY projects for our home and for my classroom!
Kristy Zimmer, Kindergarten Teacher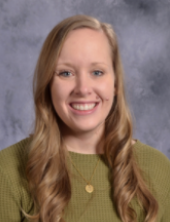 Hello! My name is Kristy Zimmer and I am so excited to start my fourth year teaching Kindergarten at ZQuest. I went to Hope College (2012) for my undergrad and GVSU (2016) for a special education certification. While at Hope, I did my student teaching in Kindergarten and fell in love with teaching at this grade level. It is such a fun age group to work with and to see them learn new skills. I lived in Washington DC after college and worked at Jill's House, a respite home for children with disabilities. It was an incredible experience to care for children with special needs and give parents respite and rest. Since then I have been teaching at multiple grade levels, special education and gen ed. I am very happy to have landed in Kindergarten! I was raised by my wonderful parents in Holland MI, along with my older sister. My husband, Mike and I got married in November 2017. We have a sweet baby girl, Cora who will turn 1 in September! In our spare time we love to play games with our friends, garden and do DIY projects around the house. I have been running races with my dad for 10 years, we started off with just 5k's and worked our way up to a marathon in 2016! Now I get to run with Cora in the running cart!
Melanie Shepardson, K-8 Special Education Teacher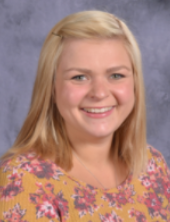 Hi Z-Quest! My name is Melanie Shepardson, and I am the Resource Room teacher at ZQuest. I am very eager to start my 2nd (full) year teaching at ZQ! I have loved collaborating with the excellent staff and students. I am excited to dive into learning again and continue to dive into this community! Due to the pandemic, I haven't been able to experience a typical ZQ year with the break weeks, so I am ready to see what that is like!
I was born and raised in Zeeland with my parents and three other brothers. Yes, all brothers. I graduated in 2013 from Zeeland East. During my time in Zeeland, I enjoyed being a part of the Dance Program in high school as well as dancing at Zeeland Recreation. I was a member of the Student Senate and enjoyed Dutch Dancing during Tulip Time. I am thrilled to be teaching in a district that has had a huge impact on my love of learning and school experience.
Before ZQuest, I graduated from Calvin College, now Calvin University, in 2017 with a Bachelor's degree in Special Education and Elementary Education. From there, I was a long term substitute in Zeeland and then taught as a resource room teacher for almost two years at a charter school in Muskegon. My husband and I have almost been married for 2 years and we live in the Grand Haven area. We have three high energy pups that keep us busy. When I am not at school, I enjoy reading, renovating parts of my home, and spending time with my family. In the summer, we enjoy taking our boat to nearby lakes to go fishing and enjoy the sun. We bought a camper this past Spring and we have enjoyed exploring all the beautiful parts of Michigan!
Lorna Bratton, K-8 Spanish Teacher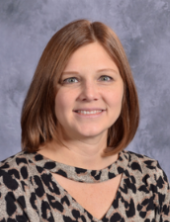 Hello ZQuest family! My name is Lorna Bratton and I am so excited to begin my 4th year at ZQuest (and 15th year teaching) as the K-8 Spanish teacher.
A little about my background... I moved to Zeeland at the age of 3 from the Columbus, OH area. The 3rd of 5 children, I attended Zeeland Public Schools for my K-12 education. After graduating from Zeeland High School (yes, at that time there was only one!), I attended St. Thomas Aquinas College in Grand Rapids, from which I earned a double major in Spanish and Communication with an emphasis in Public Speaking. I also earned my K-12 teaching certificate before graduating in the spring of 2006. During my college career, I was a member of the Varsity Softball team and traveled to and lived in Salamanca, Spain for a semester. I was blessed to be able to travel to many European countries during my 4 months abroad. The summer after graduation, I moved to Cuernavaca, Mexico to fully immerse myself in a Spanish-speaking country… although I already had a broad knowledge of the language and culture before living there, this was the time and place in my life that I felt like I really fell in love with Spanish. In the summer of 2007, I accepted a high school teaching position in Arizona and stayed there for 11 years. During that time I earned my Master's Degree in Curriculum and Instruction from the University of Phoenix (2010). After having my first child in 2017, I realized how much I wanted for him to get to be a bigger part of his grandparents', aunts'/uncles' and cousins' lives, so I made the move back to Zeeland in the spring of 2018.
It was only a few months later that I was honored to accept the K-8 Spanish teacher position at ZQuest. During my 1st 3 years here, I have been amazed at how welcomed I felt by the staff, students and families. I look forward to continuing to build upon those relationships this year again and for the years to come. I feel so lucky to be able to have students year after year, to be a witness to their growth in the Spanish language over time, but also in deepening our relationships.
Finally, during my free time, my 2 children (Conrad and Frida) and I love to camp, grill, take our miniature schnauzer (Lola) for walks, go to the beach and pretty much do anything playing outside and spending time with our extended family. This year is going to be another exciting one filled with love, laughter and lots of fun! I can't wait!!
Krista Schopmeyer, K-8 Intervention Specialist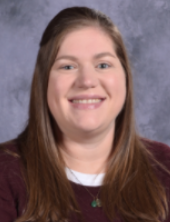 Hello! My name is Krista Schopmeyer and I am thrilled to be a part of the ZQuest staff again this year. I am a graduate of Michigan State University with a Bachelor of Science in Child Development and Elementary Education as well as a Master of Arts in Education. I am passionate about supporting students as they understand their learning process and develop their skills and abilities.
I began my career 14 years ago in North Carolina, teaching primarily Kindergarten and Pre-Kindergarten. I loved guiding children to become successful students as they developed their curiosity and discovery into life-long learning practices. After returning to Michigan to be closer to family, I joined Zeeland Public Schools as an interventionist. I have been the Reading Teacher at ZQuest for the last 3 years. I love the way ZQuest encourages students to take ownership of their learning and empowers them to become independent learners.
My husband, Jesse, and I have been married since 2007; our son, Owen, is in 5th grade at ZQuest and we have a little girl, Hannah, who will be 1 in November. We enjoy reading and playing games together, visiting museums in Grand Rapids and Chicago, and spending time with our extended family.
Pat VanderZee, K-8 Interventionist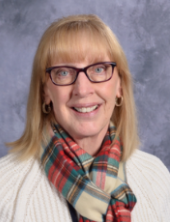 Hi! My name is Pat VanderZee, and I am an interventionist for ZQuest. I love working with the dedicated and talented staff at ZQ and enjoy teaching some really great students. I am looking forward to another fabulous year! Before ZQuest, I was in Godwin Heights for 18 years teaching Kindergarten and First Grade classes. I have a BA in English/Language Arts, and my Masters is in Early Childhood Education. I live in the Lamont area. My husband and I are blessed to live near our children and grandchildren. We spend a lot of our time being a part of renovation projects at my son's house (built in 1870) and my daughter's house (built in 1874). I also cherish my time with my grandchildren and family in general.
Micki Hyma, Special Education Paraprofessional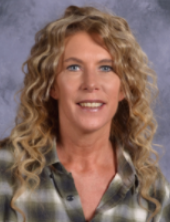 I am Micki Hyma, special education paraprofessional for ZQuest. I was born and raised in Holland but currently live in Hudsonville. This is my sixth year working in this position. I feel so fortunate to be able to hang out with not only the kids I get to work with everyday but all of the great kids that attend ZQuest.
My husband and I have been married for almost 21 years and we have three great kids, two English Mastiffs, and a Yorkie named Tank. Our oldest son is twenty three and attends GRCC. We have another son that will be a senior at Zeeland East this year and our daughter will be a sophomore.
After our oldest moved out my family decided to open up our empty bedroom and home to foster children. We have been able to do this for almost a year now and have had two children come and go from our home. It's an incredibly unpredictable journey that we intend to continue.
Jil Hartman, Student Success Coordinator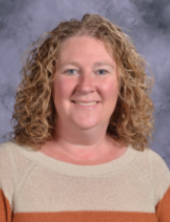 Hello my name is Jil Hartman and I am the Student Success Coordinator for ZQuest. My position was newly created in the 2018/2019 school year. My job is to be an extra layer of support for staff and students here at school. I help with behavioral, and social and emotional support in any situation the teachers think would be helpful for me to come alongside a student and offer extra support. I love that each of my days are different and that I can be available to support any student who might need a little extra love that day. I feel truly blessed to be in this position. I am not an unfamiliar face around school as my kids started at ZQuest when it first began and I have been an active volunteer ever since. This year my daughter, Maggie, will be an 11th grader at Zeeland West and my son, Gerrit, will be a 10th grader. My husband Chris and I were high school sweethearts who attended different high schools and have been married for 21 years. We are both graduates of Grand Valley State University. When I'm not at school you can usually find me driving my kids to and from their various events, helping my daughter run her non profit flower business Maggie's Flowers and doing projects on our 1900 farmhouse.
Gerrit Van Klaveren, K-5 PE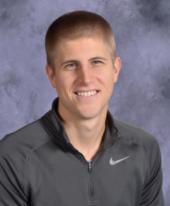 My name is Gerrit Van Klaveren (Mr. VK) and I am Canadian. I graduated from Calvin College in 2014 with K-12 physical education and minors in biochemistry and biology. I have taught PE in many locations across the country from New Mexico to New Jersey and now Michigan. Due to visa complications and love (ask me sometime), I went back for my Master's in Physical Education Pedagogy (2017) at Western Michigan University. I am married to the wonderful Lauren vK for 3 years, who has a heart for others that is simply contagious.
On the side, I am very active in sports, music, worship, wood projects and recreational activities. Serving, fixing things and helping others brings much joy. Every day, I like to bring an undignified atmosphere where joy and vibrant energy fills my classroom. When students see how much fun being active and moving is, the hope is they will learn to value living a healthy and active lifestyle. More importantly, I emphasize the diversity of our bodies. We all have different gifts and abilities in the areas of team sports, individual sports, recreation and dance. Finding what the students love will help them to value being active for a lifetime. What a gift, what a blessing it is to be able to share that with everyone I meet and teach!
We are both so excited to be here in Zeeland, and to start a new journey in what I hear and have seen, thus far, as a vibrant, growing and loving community. I am so impressed and so thankful for everyone making my first year amazing! Here to my second year!! GO ZQUEST!
Gail Heinemann, K-5 PE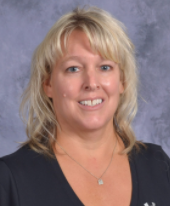 Hello! My name is Gail Heinemann and I am a Physical Education teacher for Zeeland Public Schools. I share my time with ZQuest, Roosevelt and Lincoln schools and I have been with the district since 2002.
I currently live in Spring Lake, but I am originally from Westland, MI and I have also lived in Traverse City. I have a Masters Degree in Recreation Administration and after working in the field, I realized how much I missed working with children. That is when I decided to go to Grand Valley State University to get my teaching certificate. I am certified to teach both Physical Education as well as in the classroom. I did my classroom student teaching in Muskegon Heights and my PE student teaching in Coopersville. My Passion is teaching the students lifelong skills to maintain a healthy lifestyle!
I have enjoyed being a part of the Zeeland teacher community and continue to look forward to having more great years!
Heather KEesler, K-5 Art
Hi! I'm Heather Keesler. I am the 5-K visual arts teacher for ZQuest and Roosevelt and shared time at New Groningen. I'm excited to be starting my 3rd year of teaching with Zeeland and my 18th year in education. Before coming to Zeeland I taught 12 years at Vanderbilt Academy and Holland Public Schools. I majored in Art and Design with a minor in Elementary Education.
I absolutely love teaching, and can't imagine doing anything else! My favorite media is ceramics!! I love getting my hands in clay, and building and sculpting with my students.
My husband Cory, my daughter Regan, our pug Paul and our guinea pig Nacho live in Holland. My daughter will be starting her sophomore year at East next year! We love living in a neighborhood with a pool and spend a lot of time swimming and soaking in the sun. I also love thrift shopping, finding great deals and second hand treasures.
Holly Balcer, K-5 Music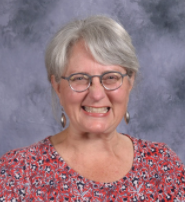 Please visit this link to learn about Mrs. Balcer.
Libby Burke, School Social Worker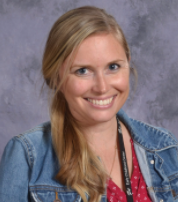 Hello! I am Libby Burke, the school social worker at ZQuest. I am a graduate of Grand Valley State University with my Master's Degree in Social Work. This is my 9th year working as a school social worker, and will be starting my 4th year with ZQuest. You may also see me around the Zeeland district as I support and provide services to students in other buildings, including preschool through 8th grade. In my position as a school social worker, I work with students who receive special education services and help build their social and emotional skills. What I love most about being a school social worker are the relationships I get to build with students and families, and often getting to work with the same students each year. My unique position allows me to build relationships with students across their academic career, and it is rewarding to see how far they have come!
In my free time, I love to spend time with my family. My husband, Grant, is a 2nd grade teacher, and I have two boys, Emmett (age 4) and Miles (age 1.5). I love Michigan summers, spending time at Silver Lake, boating, going to the beach, reading, running, hiking, and traveling. I am blessed to be part of Zeeland Public Schools and the larger Zeeland Community!
Kevin Blohm, School Psychologist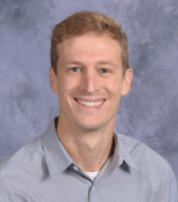 Hi there, I am Kevin Blohm, the school psychologist here at Z-Quest. I attended Michigan State University for my undergraduate degree and Grand Valley State University for my Specialist degree in School Psychology. This is my second year in the district as well as my second year in the field. Working with children is my favorite part of the job, and it is what motivates me! Children have so much to teach us as adults as well! In my free time, I enjoy reading, gardening, running, yoga, walking my dog, and being out in nature. I live in Grand Rapids with my wife, Erin, and our two children, Norah (3) and Julian (2 weeks).
Christa Veldkamp, Speech Pathologist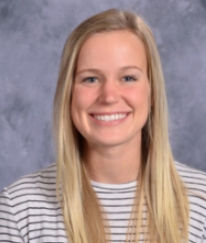 Hi, I'm Christa Veldkamp, the speech and language pathologist at ZQuest Elementary. I attended Calvin College for my undergraduate degree and the University of Northern Colorado for my Master's Degree in Speech Language Pathology. This is my 5th year working as a speech language pathologist and my 3rd year working at ZQuest. I also provide services at Adams Elementary School and Creekside Middle School. I love my job because every day is different and I get the opportunity to work with a variety of students. It is a joy to help kids grow in their speech and language skills. In my free time, I like to be active and outdoors. I love golfing, hiking, camping, skiing/snowboarding, and spending time with my family and friends.