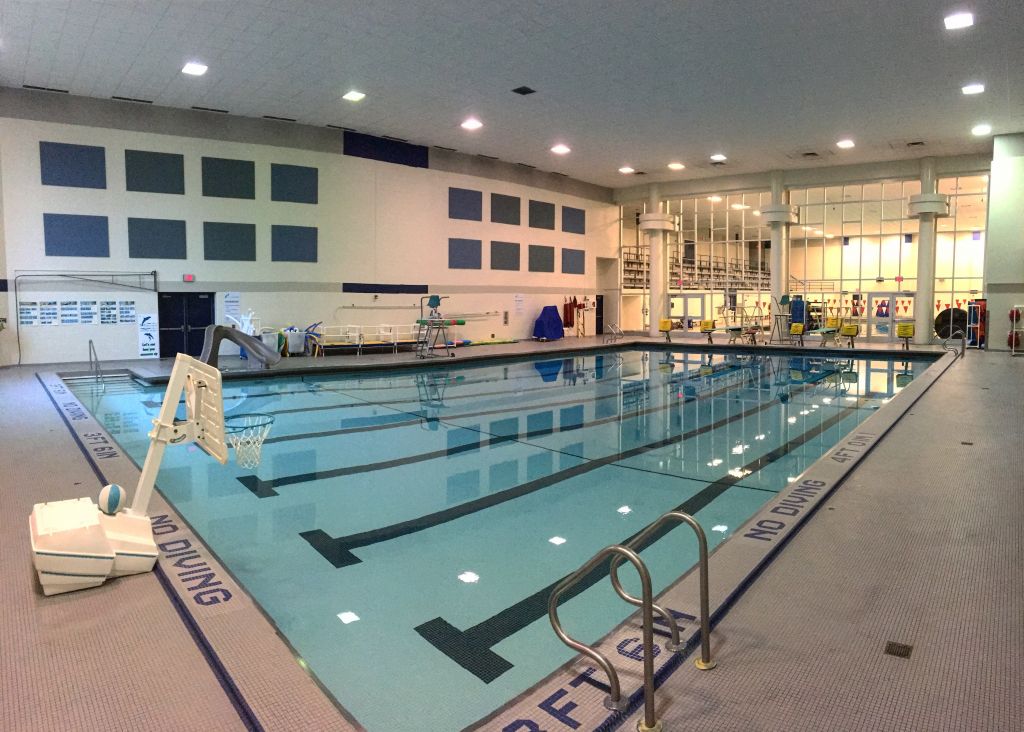 Family Aquatics Options
Open Swim
Full Details on Open Swim Options
Fun for the whole family, open swim is a great time for all ages to enjoy the pool! Diving boards, youth water slide, basketball hoop various pool toys and floats are available. We also provide life jackets, puddle jumpers and infant floats for non-swimmers. Pool Rules
$3 p/visit or Splash Pass (details below)

Tue-Fri: 7pm-8:30pm
Sat: 1:30pm-3:30pm
Open Swim on Half School Days

: 1-3pm | Apr 19, May 1

Snow Day Open Swim: 1:30-3:30pm

Free Open Swim Access While Enrolled In Our Swim Lessons
---
Splash Pass
Full Details on Open Swim Options
This is a new fitness center membership for families who love to play in the pool and like to enjoy unlimited access exclusively to open swim! Children 11 years and younger must be accompanied in the pool area by a responsible person at least 16 years of age.
$32 p/1 month

$86 p/3 months (10% discount)

$154 p/6 months (20% discount
---
Parent & Tot: Paddle & Play
(5 yrs & Younger + Parent/Guardian)
Full Details on Open Swim Options
A special time in the pool for parents and youngsters to enjoy swimming and play time with friends! Open to children 5 yrs and under when accompanied by a guardian. Guardian must be in the water and provide supervision for their child(ren). No registration needed… just show up!
Cost: $3 p/swimmer OR Splash Pass

Days: Fridays

Dates: Sept 5 – May 31 (skip: Apr 5)

Time: 9:30am – 10:45am

Location: Zeeland Recreation Pools
---
Summer Splash Events
Mark your calendar and join us in the pool for special afternoons filled with games, contests, prizes and tons of FUN!
Cost: $5 OR Splash Pass
June 12: "Aloha Summer"
July 10: "Christmas in July"
August 21: "Back to School Celebration"
Time: 12:30-3:30pm
Location: Zeeland Recreation Pools
---
Adaptive Open Swim For Adults
Full Details on Open Swim Options
This program provides access to physical activity, new stimuli, and alternative social activities for individuals with special needs and abilities. Everyone is welcome! Come and join us for some fun in the pool! No registration needed… just show up!
Cost: $3 p/visit OR Splash Pass (no charge for personal caregivers)

Dates: May 1, June 5

Time: 1:30pm – 2:30pm

Location: Zeeland Recreation Pools
Free Open Swim While Enrolled In Swim Lessons
To encourage our swimmers to practice their skills between lessons, each child who enrolls in our swim lessons will receive a family open swim certificate that will allow FREE unlimited access for their immediate family to open swim for the duration of their swim lesson session. Family open swim certificates will be handed out on the first day of swim lessons and may be redeemed for a Splash Pass at the service desk. One certificate per family. Certificates are non-transferrable.