District News
March 19, 2020
ZPS Board of Education
The ZPS Board of Education will host a special board meeting on Friday, March 20, 2020 at 10:00 AM at the ZPS Administration Building, 183 W. Roosevelt.
March 12, 2020
COVID-19
COVID-19
A Message from the Superintendent
Watch a video message from Superintendent Cal De Kuiper.
Academics
Academic information will be posted when available during the week of April 13.
Optional learning opportunities for Grades Pre K- 5
Optional learning opportunities for Grades 6-12

Meal Service
Please note meal service beginning the week of April 6-10 is changing to Monday and Thursday.
ZPS will host 27 locations to provide meals to community members ages 18 and under. Routes will run every Monday and Thursday. Please note parents can pick up meals for children and children do not need to be present to receive food. Children do not need to be ZPS students to receive food. This service is open to all families in our community. If your child has a food allergy, please email foodservice@zps.org for full assistance.
With all locations, we ask that participants engage in social distancing and practice proper hygiene before and after meal service pick up.
Please look for the ZPS school bus every Monday and Thursday:
Borculo Christian School 3:00 - 3:30 pm
Borculo Express Store 3:45 - 4:15 pm
Imperial Estates at Rhodora Drive 3:00 - 3:30 pm
1st Protestant Ref Church near Hunters Creek 3:45 - 4:15 pm
Early Childhood Center 3:00 - 3:30 pm
Logan Estates 3:45 - 4:15 pm
Lincoln Elementary 3:00 - 3:30 pm
Innocademy 3:45 - 4:15 pm
Wiersma / Perry Street 3:00 - 3:30 pm
Maple Valley Estates @ 88th Street Entrance 3:45 - 4:15
Woodbridge Elementary 3:00 - 3:30 pm
Black River Apartments at Cul-de-sac 3:45 - 4:15 pm
Niekerk CRC 3:00 - 3:30 pm
Ottogan Mobile Home park @ office 3:45 - 4:15 pm
Drenthe Grove 3:00 - 3:30 pm
Vriesland Reformed Church 3:45 - 4:15 pm
Lawrence Street Park 3:00 - 3:30 pm
SKLD at Madison Court 3:45 - 4:15 pm
Drenthe CRC 3:00 - 3:30 pm
Oakland CRC 3:45 - 4:15 pm
Ottawa Reformed Church 3:00 - 3:30 pm
North Blendon Reformed Church 3:45 - 4:15 pm
Savannah Lakes Community Center 3:00 - 3:30 pm
Melvin / 104th 3:45 - 4:15 pm
Beaverdam Fire Station 3:00 - 3:30 pm
Family Fare 3:45 - 4:15 pm
The Bridge Youth Center 12:00 - 6:00 pm. This site will operate both a walk-up and drive-up service. For those who utilize the drive-up service, please use the parking lot on the east side of the building. Please remain in your car and a volunteer will assist with providing the number of meals needed. Other household supplies may also be available upon request at this location only.

Additional Resources
Those seeking to make donations or receive distributions of food, non-perishable household items, or clothing are encouraged to utilize Harvest Stand in Zeeland. Please check with Harvest Stand for open hours.
Hand2Hand, a food program within all ZPS buildings, will be working out of City on a Hill. Food delivery through this program is available by calling 616.283.2645.
Feeding America is scheduled for Tuesday, March 17 from 6-7 pm outdoors at Roosevelt Elementary. Due to the critical importance of this event, we aim to keep this event on as scheduled unless directed otherwise.
Anyone requiring additional coordination of food and basic need resources can contact Lana Kamer at lkamer@zps.org or by calling 616.283.2645.
Mental Health Assistance
If you or someone you know needs mental health assistance during this time, resources are available. If an emergency, please call 911. Other resources include:
Crisis Text Line - Text "HOME" to 741741
Suicide Prevention Online Chat - https://suicidepreventionlifeline.org/chat/
Suicide Prevention Lifeline - Call 1-800-273-8255
Visit CrisisChat.org
The Trevor Project: Founded in 1998 by the creators of the Academy Award®-winning short film TREVOR, The Trevor Project is the leading national organization providing crisis intervention and suicide prevention services to lesbian, gay, bisexual, transgender, queer & questioning (LGBTQ) young people under 25.
Trevor Lifeline - Call 1-866-488-7386
Trevor Chat - Confidential online instant messaging with a Trevor counselor, available 24-7. Access through a computer, as you may have technical difficulties using a smartphone or tablet. https://www.thetrevorproject.org/
For Current COVID-19 Information
With the increased attention toward the Coronavirus Disease 2019 (COVID-19), It is important for our ZPS community to have access to accurate and timely information about this health pandemic.

The Michigan Department of Health and Human Services website is a useful tool for understanding the virus. The site provides details specific to the State of Michigan, how the virus is spread, who is at risk, and how to protect yourself from the virus. Additionally, the CDC (Centers for Disease Control and Prevention) has developed a Frequently Asked Questions document and has other timely information available online.

Zeeland Public Schools will continue to monitor COVID-19 and will work under the guidance of The Michigan Department of Health and in conjunction with area schools to ensure the safety of everyone in our school community and beyond.
January 28, 2020
Cityside Middle School to close January 29 - 31
Closure due to high number of absences
Over 140 Cityside students, around 20%, were reported absent at Cityside Middle School today due to a combination of illnesses including respiratory and stomach viruses. Additionally, 25% of Cityside staff are also out sick. Absences on Monday reached 108.
ZPS will close the Cityside Middle School building effective after school today, January 28, and will resume classes on Monday, February 3. The closure will allow students and staff to fully recover and allow ZPS to perform a thorough deep cleaning of the entire building. This combination should alleviate the ongoing widespread illnesses.
ZPS is working alongside the Ottawa County Health Department to monitor illness-related absences at Cityside Middle School and district-wide. Health officials suggest those with flu-like symptoms and fever stay home for at least 24 hours after the fever is gone.
At this time, all other ZPS buildings remain open. Attendance rates this week at other buildings are over 91%:
ECC 91%
Adams 94.1%
Lincoln 95.5%
New Groningen 95.7%
Quincy 94.4%
Roosevelt 93.9%
Woodbridge 93%
ZQuest 93%
Creekside 96%
ZHS 95%
All events held at Cityside Middle School on Tuesday after school through Friday evening are also canceled. Zeeland Recreation's Fitness Center and pools will remain open, but classes and events held within Cityside Middle School will be canceled. Please check with Zeeland Recreation if you have questions.
January 10, 2020
Weather Update
All ZPS events for Saturday, January 11 are canceled.
November 26, 2019
Vision 2020
Bond Proposal Information for 2020
Due to the uncertainty caused by COVID-19, the ZPS Board of Education voted to rescind the bond proposal from the May 2020 ballot. The information below is available for you to review only at this time. We will revisit a bond proposal when the timing is appropriate for our community.
Community Forum Announced for April 21
Learn more about the bond proposal with Superintendent Cal De Kuiper.
Stop by the Howard Miller Community Center on Tuesday, April 21 at your convenience between 8:00 - 10:00 am or 5:30 - 7:00 pm to learn more or have your questions answered!
February 27, 2020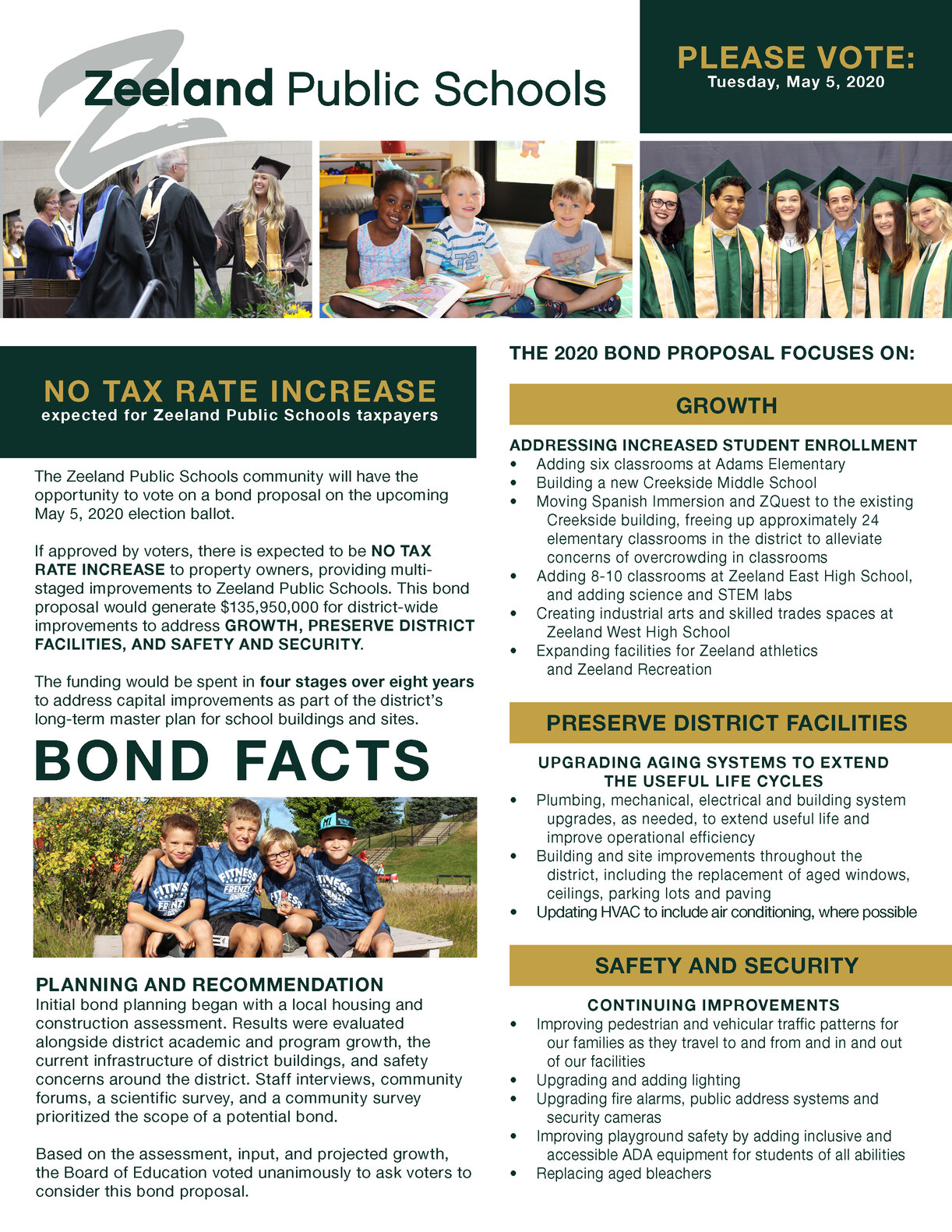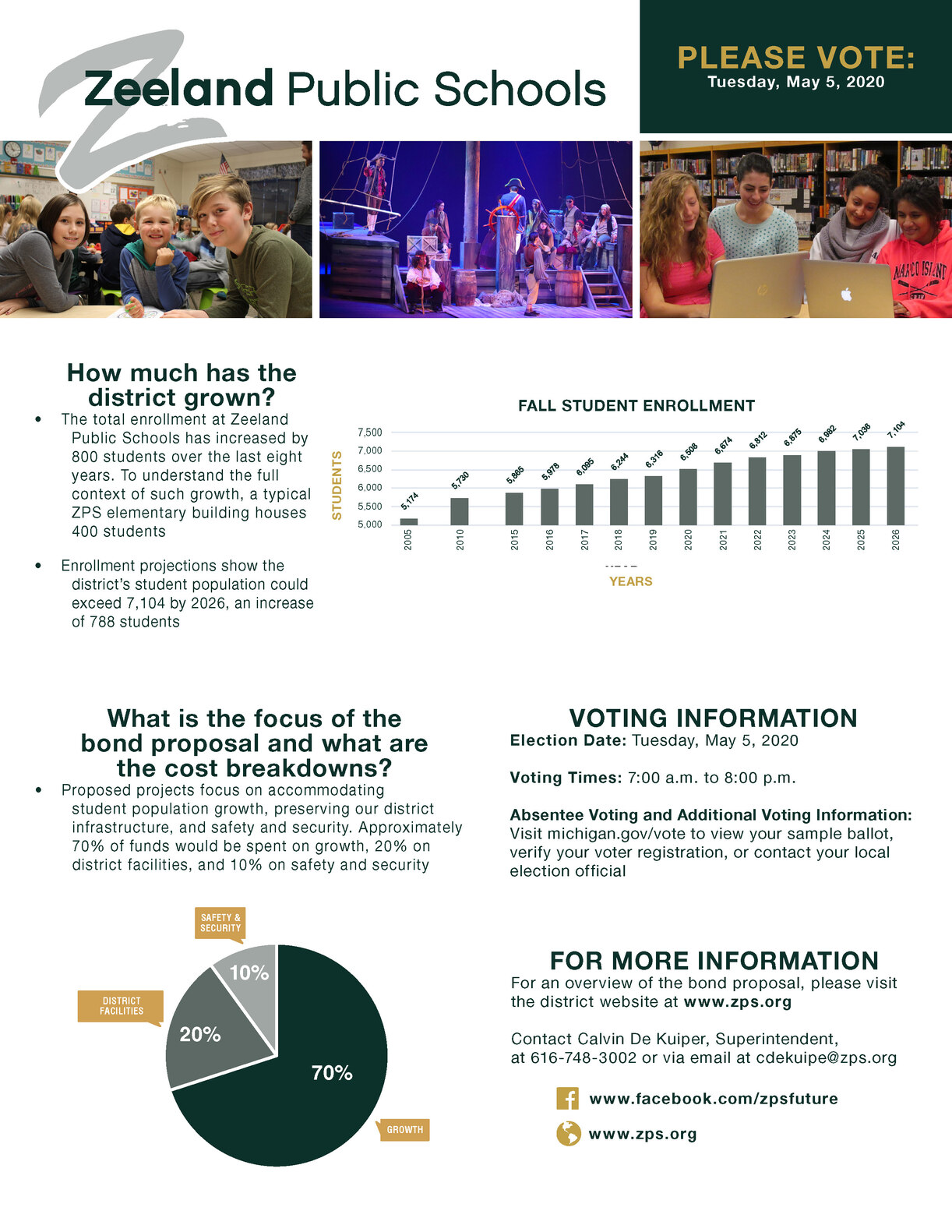 January 20, 2020
The Board of Education voted unanimously to place a $136M bond proposal, with no expected tax rate increase, on the May 5, 2020 ballot.

Read the Holland Sentinel article
Read the results of the Community Survey. The survey includes 599 responses.
January 13, 2020
Community survey
Survey is now closed. See results above.
November 26
Zeeland Public Schools is proud of the continued growth across the district. Over the last eight years, ZPS enrollment has climbed by nearly 800 students! To understand the full context of such growth, a typical ZPS elementary building houses 400 students!
As the district evaluates the best method for adjusting for the positive growth rate, it has been determined that maintaining the current tax rate is an important factor to our community. Therefore, only options with a no tax increase are being considered at this time. The top three areas of concern include space for teaching and learning, maintaining our facilities for ten years, and safety and security in and around all school buildings.
The ZPS Board of Education will make a decision whether to place a bond proposal on the ballot for public vote at the January board meeting. Superintendent Cal De Kuiper has been, and will continue to speak with community groups and ZPS staff around the district about the possible growth options.
The community is invited and encouraged to speak with Cal De Kuiper at a community Q & A session scheduled for Wednesday, December 11 between 8 - 10 am or 5:30 - 7 pm. Both will take place at the Howard Miller Community Center in Zeeland.
You may also call the Office of the Superintendent at 616.748.3002 if you would like to further discuss.
In the News
Holland Sentinel article (11.22.19)
Holland Sentinel article (12.10.19)
07/19/2019
Back to School 2019
School begins Tuesday, August 27!
Information on back-to-school events and information will be added and updated as it becomes available. Please also check your building website for further information.
Kindergarten Orientation:
Wednesday, August 21 for Quincy, Roosevelt and New Groningen. Thursday, August 22 for Adams, Lincoln and Woodbridge.
Students will be picked up two hours earlier than their morning pick up time. Therefore, if they are scheduled to be picked up at 8:00 AM, they will be picked up at 6:00 PM. Buses arrive to the school buildings between 6:25 - 6:30 PM. Students will go to their classroom while parents have orientation separately, beginning at 6:30. At 7:35, parents will pick up their children at the classrooms and load the buses to return home. Buses will depart at 7:40 PM.
Early Childhood Center:
Dates and times vary for each class at the ECC. All families will receive specific information in mid-August about their child's classroom open house date and time. Early Childhood Special Education open house will be August 26 from 4:45 – 6:15 pm. For additional information, please contact the ECC direct at 616.748.3275.
Elementary Open House Dates:
Adams Elementary: open house for grades 1-5 will be Monday, August 26 from 4:30 - 6:00.
Lincoln Elementary: open house for grades 1-5 will be August 26. New families are invited to begin at 5:30 in the multipurpose room. Returning families are invited 6:00-7:00.
New Groningen Elementary: open house will be held Monday, August 26 from 4:30 - 6:00.
Quincy Elementary: open house will be held Monday, August 26 from 4:30 - 6:00.
Roosevelt Elementary: open house for grades 1-5 will be Monday, August 26 from 4:30 - 6:00.
Woodbridge Elementary: open house will be held Monday, August 26 from 4:30 - 6:00.
Class Listings:
All elementary class listings will be posted at their buildings on August 9.
ZQuest K-8:
Curriculum night will be held Monday, August 12 from 5:30 - 7:30 pm.
Cityside Middle School:
Packet pick-up and picture day will be held Thursday, August 22 from 12:00 - 6:00 pm. All 6th - 8th grade students should returned signed paperwork (mailed in August), pick up packet, pick up bus tag, have school picture taken, and find classrooms and lockers. Meet the Teacher night will be Tuesday, September 10 from 6:00 - 8:00 pm for parents.
Creekside Middle School:
Self-guided tours to find lockers and classrooms will be August 19 - 22 from 9:00 am - 3:00 pm. Open House to meet sixth and seventh grade teachers will be Tuesday, September 10 from 6:00 - 8:00 pm in their classrooms. Student packets will be distributed on the first day of school.

ZHS:
Registration and pictures will be held at Zeeland East and Zeeland West High School buildings on Tuesday, August 20 from 10 am - 2 pm and Wednesday, August 21 from 3-7 pm. Students should report to their home building and use the flagpole / main entrance.
Venture:
Registration will be held at Venture Academy in ZWHS on Tuesday, August 20 from 10 am - 2 pm and Wednesday, August 21 from 3-7 pm. Yearbook and ID pictures will be taken during registration. Meet the teacher night will be held August 21 from 3-7 pm.
Z-Kids:
ZKids childcare will be offered at all ZPS elementary buildings before and after school. For more information please call 748-4711 or check out the website.

Transportation:
Details will be available mid-August on the Infinite Campus parent portal under "Bus Information" tab for all grades K-12. Parents: please make sure your username / password are correct for login to the portal. Contact your school office with questions or to sign up for the parent portal.

Athletics:
The first day of practice for football, cross country, boys tennis, boys soccer, and girls golf is August 12 and girls swimming and volleyball August 14. Before students are allowed to participate or try out, forms must be completed online using Final Forms. Additionally, students must meet the following requirements:
• You are enrolled! You need to actually be a ZPS student before you can play sports for ZPS.
• Your physical form (dated on or after 4/15/19) is turned in to the athletic office – if you still need a physical, print the form from the website and take it to your appointment.
• You have taken an ImPACT test during the summer or the previous year. All new students, incoming freshmen & juniors need to test this summer. Sign up on the website.
• You passed more that 66% of your classes last year (10th-12th graders). Freshman get a clean start for high school.
• You have no athletic suspensions that still need to be served.
• You meet the MHSAA age requirements.
Middle School Athletic Information:
Please visit our website for tryout information. Full details can be found at zeelandwestathletics.com or zeelandeastathletics.com.
June 6, 2019
Summer 2019 @ ZPS
Information will be added as we receive it.
The summer ZPS Administration hours are Monday - Thursday from 8:00 am - 4:00 pm and Friday from 8:00 am - noon.
Link to summer reading programs